Oikos brings its focus on quality to new organic products
The brand adapts its successful Greek yogurt strategy to the organics segment.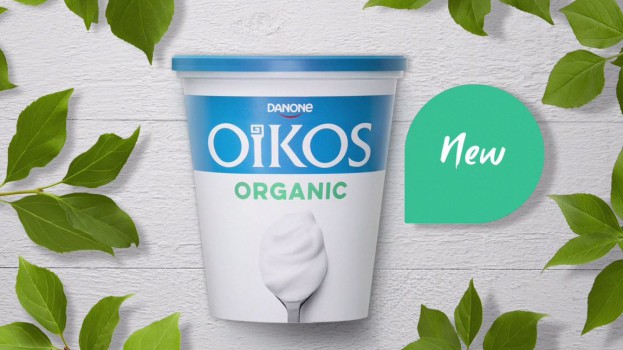 In 2017, 66% of Canadians bought organically certified products every week, up from 56% the year before, according to a study by the Canada Organic Trade Association. That number jumped to 83% among millennials.

For Danone Canada, those numbers added up to an untapped opportunity for its leading Oikos Greek yogurt brand. This week, the company launched Oikos' first line of organic products, available in the plain and vanilla varieties, with the hope of reaching that segment.

Oikos is already the number one selling Greek yogurt brand in Canada, outsizing its closest competitor by ten points in market share, according to Alexandra Latendresse, senior brand manager at Danone Canada. It wasn't the first brand to offer Greek yogurt in Canada, but outpaced competitors over the course of its first year by focusing on quality ingredients and taste, she says.

In other words, it was the result of playing the "authenticity card," investing in product R&D and "never neglecting the product experience."

The brand hopes a similar strategy will lead to success in organics, and it will be focusing on the Ontario and Western markets for the new line.

"We have to prove that we have a superior product and have the right to be on the shelves at our retailers," says Latendresse. Accordingly, she says its new product line is all-natural, certified organic and made of organic milk sourced exclusively from Ontario farms.

She believes demand for organic products has been driven primarily by the proliferation of information online, which has made shoppers more aware of the products they consume. And demand is even higher in the B.C and Alberta, due to the influence and proximity of western U.S. states like California, which is "really into organics," she says. In Ontario, organics have seen double-digit growth, she says, while growth remains a little slower in Quebec.

To support the launch of the new product line, Oikos is running a previous campaign spot whose ending has been tweaked to promote the brand's organic products. Digital assets are driving further awareness through a recipe strategy.

With consumers already attuned to the benefits of organic, education on a mass scale remains of secondary importance, says Latendresse. Its main focus is to stand out on shelf, and as such, it is running an in-store campaign. It has also secured double placement in stores (in both the organic and non-organic sections) to capture the attention of those who might not be on the lookout for organic products.