Rogers invites customers to take control of their entertainment
The launch campaign for the telco's IPTV service features a series of commanding characters from popular shows.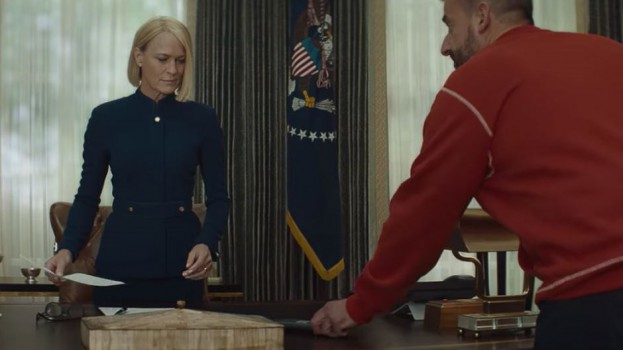 The abundance of TV and video content available to consumers today can make choosing when, how and what to watch overwhelmingly complicated – unless you're Gordon Ramsay and know precisely what you want. Right now.

Ramsay and a number of other well-known "commanding" TV personalities are appearing in ads for Rogers' IPTV service Ignite TV, which launched over the summer and eliminates fragmented streaming services by integrating Netflix, YouTube and live TV. Led by BBDO Toronto, the campaign revolves around the tagline "Now, you're in command," suggesting the platform gives consumers complete control over their entertainment decisions.

The campaign debuted with a 60-second spot featuring Ramsay and actors Lucy Lui and Paul Sorvino over the summer. The latest ad, featuring actress Robin Wright of House of Cards, launched this week to coincide with the upcoming release of the final season of the popular Netflix series.

In the ads, Wright, Ramsay, Sorvino and Lui talk very seriously about their entertainment wishes. At the last moment, a Rogers technician enters the scene, adding a humorous element to the commercials.

The TV campaign has been supported by digital video starring a number of Toronto Blue Jays and NHL players. In addition, a "Command House" activation took place this summer at Toronto's Roundhouse Park as part of Fan Expo through which people could interact with the system alongside celebrities, including Sportsnet talk show hosts Tim and Sid.

As part of the creative strategy, Rogers wanted to leverage a number of "commanding and iconic characters" to showcase Ignite TV and illustrate "how customers now have the chance to take command of their entertainment," says Drew Stevenson, VP of brand.

Insights from BBDO suggested there's never been a better time to be a content lover with all of the streaming services available. But with the number being so high, it can become a "little overwhelming for customers," adds Stevenson. "With Ignite TV, being the aggregator of all of that content, and it doesn't really matter where it comes from, you have access to it. That was really the idea behind how consumers are now in command of their entertainment."

From a creative perspective, BBDO associate creative director Chris Booth says the idea was to use familiar archetypes from different television genres, and then to create "comedic tension" through the unexpected insertion of a Rogers technician, who was casted internally. Moreover, the ads' cinematic approach are intended to fit nicely within the entertainment space.

Stevenson says three principles led the media strategy. First, Rogers is looking to build awareness of Ignite TV through a mass TV play. Secondly, additional digital components are being served to customers based on previous campaign engagement and segmentation (for example, parents are likely to encounter creative featuring Ignite's KidsZone with parental controls). Finally, it wanted to place the product in the hands of customers to help them understand its benefits (hence the Roundhouse Park activation).

The launch follows a the unveiling of a Rogers-wide brand platform in May, which aims to speak to a wide range of Canadian aspirations. Stevenson says the latest effort took cues from that work, as all campaigns going forward will be pulled through the lens of Rogers' new "Make More Possible" platform.

The campaign will run through the rest of the year, with media support from OMD Canada and Leapfrog Online.