Supporting a project years in the making, three Canadian agencies have come together to help launch the Swab the World Foundation, a non-profit organization founded by industry vet Mai Duong whose aim is to diversify the global registry of stem cell donors.
Duong was diagnosed with leukemia in 2014 while working as a media strategist at Touche! A former cancer patient who had relapsed, she was told she would need a stem cell transplant from a Vietnamese donor that matched her specific genetic needs.
She only had two months to find such a donor – an unlikely scenario given that 70% of the 25 million donors on the global stem cell donor base are white, and therefore not a compatible match. And at that time, Vietnamese donors represented roughly 1% of the database, further reducing her chances, she says.
But the marketing community soon swept in with support, helping her launch a "Save Mai Duong" campaign that spiraled into something bigger than she ever imagined. Around $500,000 worth of media placements targeting Canadian Asian populations were donated, and at the end of the two-month campaign, three other Asian patients had found a match.
"We discovered that people were really interested and wanted to know more about that situation, that it can be life-changing," she says today. "And really it was an awareness campaign, because no one knew about this."
Duong did not find a compatible donor, but was eventually saved through another procedure involving another kind of transplant. That's when, as she sat in her hospital bed, her husband floated the idea of launching a foundation to help others.
Four years later, that idea has become a reality, and Duong continues to receive support, both from co-founder Christiane Rochon and the agencies that helped create a launch campaign: CloudRaker led on creative and a new logo, Cossette Media on media planning and Sid Lee on PR, influencer relations and a documentary that is still in production.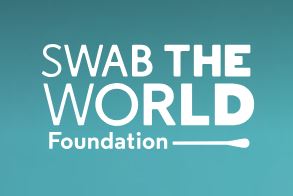 Duong says the idea of bringing several agencies together was important to her, because "the "collaboration factor is very important when you become a stem cell donor," as a door in Canada could help save a stranger's life overseas. So rather than seek one agency, she wanted a team of partners who all believed in the organization's mission, she says.
Given ownership of the creative direction after joining the campaign effort last summer, CloudRaker came up with the idea for "ShareYourDNA," which emphasizes the need for stem cell donors worldwide.
Creatively, the campaign emphasizes the simplicity of becoming a donor and consciously moves away from the sadness often used in work for charitable organizations, says Gavin Drummond, creative director at CloudRaker. According to the agency, research indicated that overplaying the tragic nature of the stem cell shortage could in fact turn people away from supporting the cause.
Instead, it created a video showing two strangers engaging in a kiss, a simple creative idea used to communicate complex subject matter, says Drummond. The team wanted to emphasize tenderness over something that could be deemed "too heavy." It landed on the idea of a creating a kind of "dreamscape" in which the viewer would understand that the scene is unfolding in a stem cell patient's head.
CloudRaker also designed a new logo for Swab the World, with a design that integrates an actual swab with a font that uncharacteristically grades from weak to stronger, says Drummond.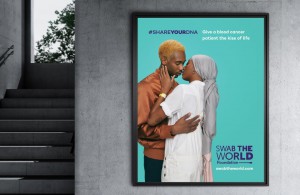 On the media side, Cossette Media strategists have focused the organization's efforts around the major urban centres of Montreal, Toronto, Vancouver, Edmonton, Calgary and Winnipeg to hit regions with greater demographic diversity. Throughout the year, stories of real patients will be included in campaign executions involving media partners like CBC and LaPress. The media buy includes a new kind of interactive long-form ad format on La Presse that is meant to appeal to traditional newspaper readers.
According to Duong, only those aged 17 to 35 can donate stem cells in Canada, except for in Quebec, where they must be at least 18 years old. Regulations around age also vary by country. That said, the campaign message had to be "very young," she says. "It has to be relevant to the millennials, because we're not talking to the big mass public."
In addition to the agency work being handled pro bono, media partners have donated space for display ads, digital banners, print ads and social media, for a total of around $1 million in visibility and placement fees.
Sid Lee, which has been involved from the very beginning, was recruited to handle PR and influencer relations. It is currently working on a documentary about the need for more stem cell donors from ethnic groups around the world.