Tim Hortons expands offering with kids menu
Timmies Minis have "quintessentially Canadian" packaging, kid-friendly entrees and an activity book instead of toys.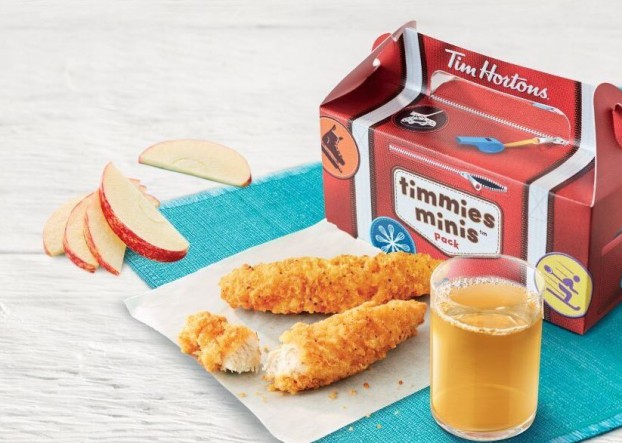 Tim Hortons continues its corporate transformation with the introduction of new menu items directed at children.
In recent months, the coffee and donut chain has announced plans to continue its international expansion (including 1,500 locations in China), invest $700 million dollars over four years on store renovations and has hinted at testing a new loyalty program and deliveries. Those changes have been accompanied by the arrival of Axel Schwan as Tim's CMO and Duncan Fulton as chief corporate officer of Restaurant Brands International.
Now, the QSR has turned its attention to its youngest customers, launching Timmies Minis in stores across Canada, with a menu that includes grilled cheese sandwiches, wraps and chicken strips. Customers have the option of selecting from an assortment of sides (including apple slices, string cheese or potato wedges) and a drink to complement their entree. The meals are being sold for $4.99, and additional items are expected to be added next year.
While Tim Hortons already offers items that appeal to consumers of all ages, including child-friendly Timbits and other baked goods, the chain has never had lunch or dinner menu items designed specifically for children, said Jorge Zaidan, Tim Hortons Canada's head of marketing, in an email to strategy. Meanwhile, some of its biggest competitors, including McDonald's and Burger King, have offered kids meals for decades.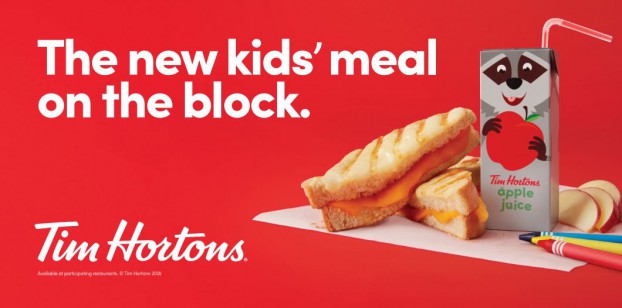 The Timmies Minis menu was developed after hearing from parents who wanted healthier options for their kids, says Zaidan. The menu extends existing options that are popular among other groups, such as grilled cheese and wraps, to children, he said.

In stores, promotion of the menu will be ongoing with signage and digital menu boards, which will be refreshed every season. On the branding front, Zaidan said the packaging was designed to be "quintessentially Canadian" and will change seasonally. For this winter, for example, the packs feature mittens and winter sports patches.

Rather than offer toys as part of the combo, the chain is giving away an activity book. That decision was influenced by parents who said their children tend to quickly get over the toys they receive at other restaurants. Meanwhile, Zaidan said, activity books allow for creative thinking and learning. They will branded in line with the Timmies Minis packaging and will change monthly, with the current version featuring a snowboarding bear, a hockey playing beaver and a tobogganing raccoon.

QSRs like McDonald's and Burger King have long offered toys as an incentive to purchasing menu items intended for children. A 2015 study conducted in the U.S. found that children's requests to eat at quick-service restaurants led to more frequent visits, and that their desire to collect toys were often behind those requests.

But here in Canada, regulations guiding how food can be advertised to children are currently being drafted by Health Canada (as the law awaits final approvals in the Senate), which could have an impact on the use of toys in advertisements. Last week, a judge gave the green light to a class action against McDonald's over the use of Happy Meals in Quebec, where consumer protection laws prohibit commercial advertising directed at children under the age of 13.

The launch of Timmies Minis is being supported with a national campaign on TV, radio, social and out-of-home. Videos created for the campaign show children (a girl in one, a boy in the other) asking a series of questions to which the answer is an obvious "no." Meanwhile, the ads suggest that the new kids meals give parents the chance to "say yes for a change."

Zak Mroueh, founder and CCO at Zulu Alpha Kilo, the agency that developed the campaign, says the creative concept taps a "universal truth for parents."

"We've all been there when our kids constantly ask for things but we keep saying no," he says. "It's great to be able to say yes to them."

North Strategic is leading PR efforts.