Unilever invites customers to label their own Baby Dove products
The brand launches a personalized, direct-to-consumer initiative for the holidays.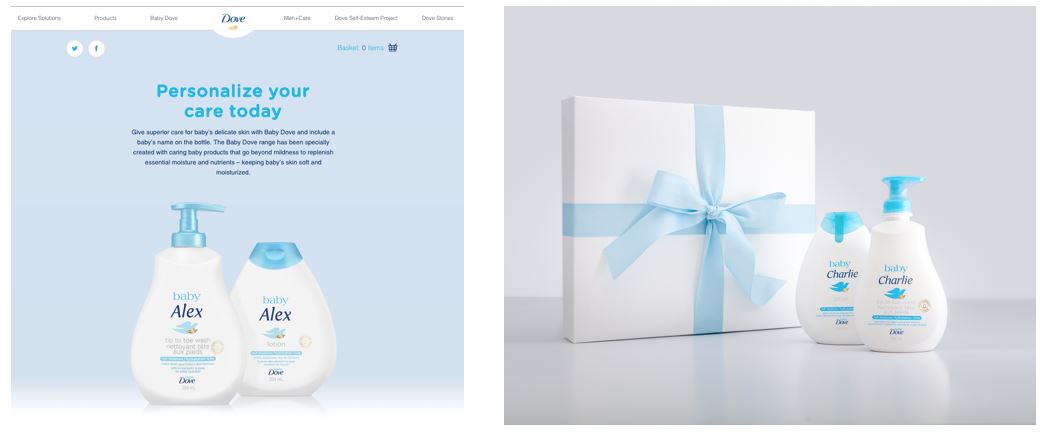 Heading into the holiday season, Unilever Canada has launched a direct-to-consumer campaign for a selection of Baby Dove products, bringing greater personalization to customers shopping for new or recent parents.

Launched earlier this month, the "My Baby Dove" campaign directs customers to a branded microsite, where they can create personalized Baby Dove wash and lotion packaging and have them delivered directly to their home.

Dove worked with Nexus Commerce, a Toronto-based e-commerce agency, on the campaign.

The starting insight was that parents start searching for baby names online long before they know the sex of the baby and those searches outnumber those made for cribs, strollers and diapers, says Andrew Dawson, associate brand manager at Baby Dove. "Between this insight and the trend of personalization in CPG products," he says, "we knew this offering would be a natural fit for Baby Dove."

"My Baby Dove" is part of a global initiative also being rolled out in the U.S. and the U.K.

The personalized offering is being promoted through search and the Dove website. As part of the effort, Dove is conducting a micro-influencer campaign involving several parents with Facebook and Instagram. In addition to using its own newsletter, the brand has partnered with ChickAdvisor, a women's product reviews and advice website, and Family Rated, a family product reviews website, to reach customers through email.

Baby Dove products are also available through online marketplaces such as Amazon.ca.

While the online marketplace is "incredibly convenient for everyone," says Dawson, "our direct-to-consumer efforts are focused around timely gifting moments like baby showers, birthdays and holidays. Customization is a wonderful way to make new parents, their babies and gift givers feel special about a unique product."

Mudit Rawat, chief strategy officer at Nexus Commerce, says the agency worked closely with Unilever on business model, execution and order fulfillment, including product warehousing, label creation, gift box design and assembly, packaging and shipping. It is also overseeing day-to-day management of the channel, including customer service and data analytics.

Rawat says the direct-to-consumer approach gives brand the opportunity to connect with customers and build personal relationships with them, whether it's personalized products or flexible subscription models that help drive repeat purchase. The channel also allows companies to collect data, further tailor experiences, and quickly test and learn product pilots.

The founders of Nexus Commerce have previously worked with Ben & Jerry's, Nescafé, Vaseline, Grocery Gateway and Delissio.