IKEA's holiday campaign taps the magic of old furniture
The retailer continues to makes sustainability a core part of its brand promise by showing the joy it can bring.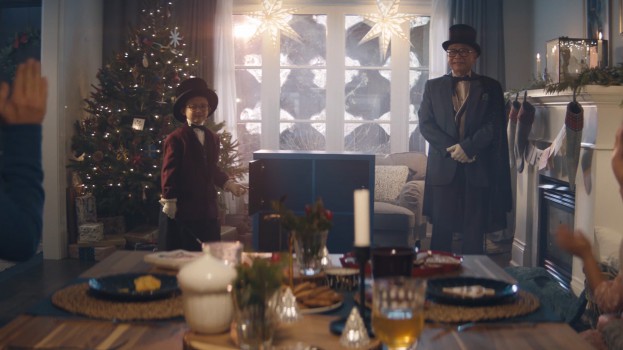 In September, IKEA Canada entered year two of its "Beautiful Possibilities" platform by putting increased focus on sustainability and debuting "Lamp 2," a classic brand spot that was, not coincidentally, given a second life.

Now, the brand has debuted "Magic Man," a holiday ad that aims to show that it's not just new products that can make magical gifts.

The campaign spot tells the story of a young boy who wants to become a great magician, but appears to be having some difficulty mastering his tricks. With the help of caring grandfather who transforms a dusty old "Kallax" shelving unit into something entirely new, the boy is able to perform his first successful trick in front of family and friends.

The spot will run for six weeks, supported by a holiday media plan that includes TV, online video, OOH, digital, social and email marketing.

"Magic Man," by IKEA's Canadian agency Rethink, embraces the spirit of the season by adding a touch of "holiday magic" and emphasizing the value of the home during the holidays, says Lauren MacDonald, the retailer's Canadian CMO. It also reflects the nature of Canadian households today by exploring a day in the life of a multi-generational family, she says.

The campaign's overarching message aligns more broadly with the holiday season, typically a period of mass consumption and expense in Canada. While there are many insights at play in the creative, according to MacDonald, one of them is that "we've been conditioned to think that a good gift must be new and expensive, when it fact, it's back to the old adage that it's the thought that counts."

Since its launch, "Beautiful Possibilities" has aimed to give life to IKEA's optimistic point of view and to showcase its values-led brand promise, an all-encompassing commitment to sustainability, human rights, diversity, inclusion – in short, to creating a better life for its customers, says MacDonald.

The release of "Lamp 2" in September coincided with the company shifting the emphasis to its "People + Planet" strategy, launched last June. That promise included a range of commitments on sustainability, from the elimination of single-use plastics within its stores to the more ambitious goal of becoming an entirely circular business come 2030.

Whereas "Lamp 2" used a classic IKEA spot to show the value of giving products a second life, the new holiday campaign takes a slightly different tack by emphasizing the importance of prolonging an item's life through reimagining its fundamental purpose, says MacDonald.

IKEA just recently soft-launched a sell-back program that give customers the chance to sell gently-used goods back to the company in return for an IKEA gift card. Within its first week, the company received more than 1,000 online submissions from customers looking to give their products a second life. The program is part of a long-term play for the company, as part of the IKEA Family loyalty program. For now, it plans to continue testing the program before rolling it out more widely.

MacDonald says that while there are no plans for a full campaign dealing with the sell-back program specifically, it is expected to receive ongoing support going forward.