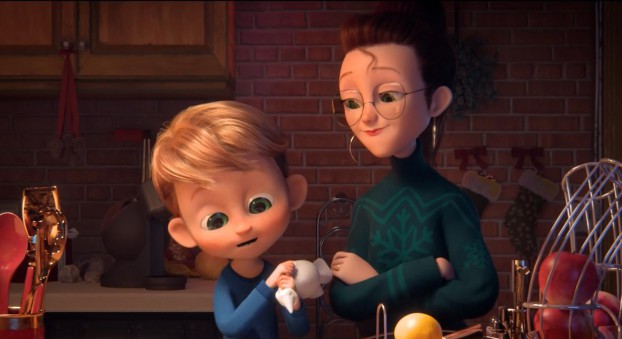 IGA is hoping to stand out in the crowded advertising landscape this holiday with an animated short film that celebrates the connection people have with food during the season.
The animated spot begins with a young boy named Nico. On Christmas morning, he discovers that while the cookies he left out for Santa are gone, a gift has been left in their place. This sparks a joy for cooking in Nico, who begins baking and cooking increasingly advanced treats and meals for Santa, a love that eventually gets passed down to the next generation.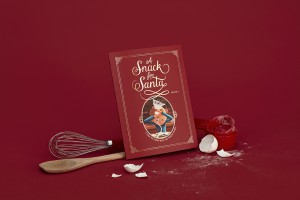 One of the gifts Nico receives over the years is a cookbook, which has also been brought into the real world, with IGA selling the cookbook to consumers in retail. The book is available for $10 at IGA stores in Quebec and New Brunswick, with proceeds going to La Tablée des Chefs, a non-profit that aims to teach high school students sustainable food and cooking habits. Recipes in the book were contributed by chefs from La Tablée, as well as celebrity chefs Ricardo and Stefano Faita.
"For IGA, it's part of our DNA to encourage families to cook together, so the notion of education is really important to that," says Carl Pichette, VP of marketing at IGA parent company Sobeys, of selling the cookbook as part of the campaign.
The full two-minute video will be airing on TV in Quebec and New Brunswick, as well as promoted through social channels. For every share the video receives on Facebook, IGA will donate another dollar to La Tablée des Chefs. The campaign will also include online videos featuring Faita cooking with kids and teaching them new recipes.
"We didn't want just another cookbook, and we didn't want to have only a storybook, so we did a hybrid between the two," says Julie Desrochers, creative director at Sid Lee, the agency behind the campaign. "The campaign is meant to instil this desire to cook in a really complete way for kids. The spot is to inspire them, and the cookbook is to give families tools to really cook together and do something with that inspiration. And then the videos with Stefano show how easy and fun it is."
Pichette says last year was the first year IGA drilled down into the insight about the emotional connection people have with food during the holiday season. The main difference in this year's campaign is expressing that connection through long-form creative, which he describes as "a gift" to customers as it gives them the chance to slow down and take a break during the hectic holiday season.
A key component of IGA's brand is a focus on providing quality ingredients, as well as helping families prepare meals together. The retailer began its holiday marketing in November, with more traditional marketing encouraging customers to stock up on ingredients and prepare for the season. But as the holidays approach, Pichette says IGA is creating a more emotional connection with consumers to stand out during one of the grocery category's most competitive months.
"The easy trap is to showcase people having fun with food and enjoying a great meal," he says. "But food has been through an evolution from when you are a kid to when you are an adult. You have a very specific relationship to what you eat during the holiday season and the feelings it creates. This time of year is like our Super Bowl because of the flood of messages, so we really want to stand out by reminding people to spend time with their family and touch the emotions they might already have for what they eat."
IGA's holiday work in past years, like much of its year-round advertising, has typically featured local owners and operators of IGA locations. To keep that tradition alive, roughly a dozen IGA merchants were brought into the studio to provide vocals for the music in this year's ad.