Wattpad rebrands to reflect inclusive approach
The writing platform is emphasizing the scope of its offering and speaking to its appeal among younger audiences.
Wattpad is no longer just a reading and writing app.
As the Toronto-based platform evolves into a "global mutliplatform entertainment company" for young and ethnically diverse audiences, the company needed a new brand identity to better reflect those changes.
Working with U.S.-based creative agency Design Studio, Wattpad has unveiled a new logo, typeface and "Where stories live" tagline that speaks to the platform's inclusive approach to storytelling, says Emma Brooks, head of marketing at Wattpad. According to the company's website, the new tagline is meant to be more "declarative and inclusive" than the former "Stories you'll love," and better positions the brand as a "space for all voices."

In addition, the branding work includes modifications to the Wattpad wordmark. Those changes include a new typeface that emphasizes motion and that overlaps the t's in its brand name, representing the "connectedness" of the platform's community. The new identity (pictured right; previous branding pictured below)  is meant to represent the "limitless possibilities" of storytelling, Brooks says. "You can start out on Wattpad and end up with a feature film in theatres around the world."
Wattpad's rebrand follows several announcements aimed at making that once-unfathomable creative journey possible for young people. Launched as a reading and writing app in 2006, the company unveiled Wattpad Studios in 2016, which connects unsigned writers on the platform with global multi-media entertainment companies.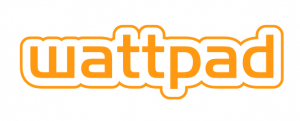 More recent announcements have continued to amplify the company's influence in entertainment. In January, Wattpad launched Wattpad Books, a direct publishing division that uses machine learning to select stories from the site for publication. And in late February, it inked a deal with Korean entertainment company Huayi Brothers that will lead to the creation of co-productions on film, TV and other digital media.

"This was really the right time to showcase the transformation this brand has taken over the years," Brooks says, "and to represent the journey that we've been on as we transform into this multi-platform entertainment company."

Part of the brand's appeal with Gen Z and millennial audiences lies in its commitment to taking a more inclusive approach to content and publishing – relying on its "Story DNA Machine Learning" technology to sidestep the traditional industry "gatekeepers": editors and producers.

Aron Levitz, head of Wattpad Studios, says the company's strength lies in offering "storytelling from diverse backgrounds and in 50-plus languages around the world, and the massive amounts of data that an audience like that generates around genres, around what people like, around what paragraph people like within stories."

Through Wattpad Studios, the company analyzes metrics like sentence structure, word use and vocabulary to determine whether a story shares similarities with classics in the public domain, according to its website. "This helps us quickly find new stories with great potential for publishing, TV, film and digital media partners."

And the first six books to be published later this year under the new Wattpad Books division were picked through a mix of data and curation, with "special consideration for stories written by diverse authors."

The commitment the company hopes to convey through its new branding speaks directly to the needs of its core audience. Today, Wattpad claims to have a user base of 70 million people, 90% of which falls within the Gen Z and millennial demographic.

The Gen Z cohort, in particular, which is set to be become the most ethnically diverse generation in human history, have been shown to care more than their predecessors about individualism and transparency. And according to Wattpad research, 93% of them who are platform users said that entertainment is the category that interests them most.