New York Fries turns hot dogs into luxury brands
The QSR is looking to elevate its offering to help it compete with a growing number of options in the food court.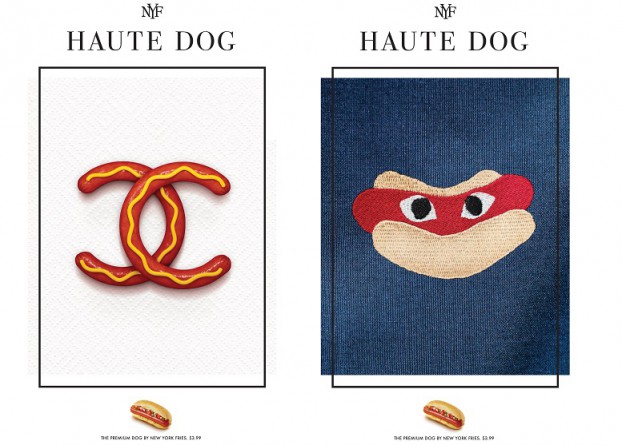 "Premium" is a word attached to a lot of products, and a hotdog is not typically one of them. But New York Fries' new campaign is looking to change that by mashing up premium high-fashion brands with its new "haute" dog.
While the premium hotdog category is not a new SKU for the brand (they have previously touted natural ingredients and premium cuts of meat) New York Fries made it "a bigger and better version," and saw the larger dog as a fun messaging opportunity, according to the brand's marketing manager, Alyssa Berenstein. Radio spots are coming on Canada Day to support it  (the brand has previously run radio spots featuring iconic Canadian actor Gordon Pinsent).
According to Berenstein, New York Fries offers a more premium experience compared with its food court competition, hence the tongue-in-cheek allusions to high-end fashion brands like Chanel, Yves Saint Laurent, and Burberry.
"We are repositioning a hot dog in an ultra-luxurious way," she says.
The idea came out of an initial radio brief with Juniper Park\TBWA, the agency on the campaign, says Berenstein. She tells strategy that the agency came back with this haute dog concept to see how it can incorporate this twist as an in store with mall posters, as well as an OOH opportunity for transit (one of the challenges faced by the brand, which has a strong presence in shopping mall food courts, is the lack of space for signage at its locations).
The challenge the brand faces, Berenstein says, is that the mall landscape is becoming more competitive with a lot of food offerings each jockeying for attention. She says an influx of sit-down restaurants, as well as new premium food options like fishmongers and artisanal butchers, are changing the mall eating experience.
While everyone loves fries, Berenstein says the brand is targeting women, and moms, the dominant shopping mall consumer who are also most likely to respond to the brands spoofed in the campaign.
New York Fries isn't the only brand looking to get consumers to reconsider the hot dog heading into the summer season. Maple Leaf recently launched a campaign aimed at mitigating the guilt parents might feel able giving hot dogs to their children by reinforcing the fact they are made without artificial preservatives, colours and flavours.