Pizzaiolo puts the focus on quality in rebranding
The Toronto-area pizza QSR is updating its look and store design to give it a "handcrafted" feel.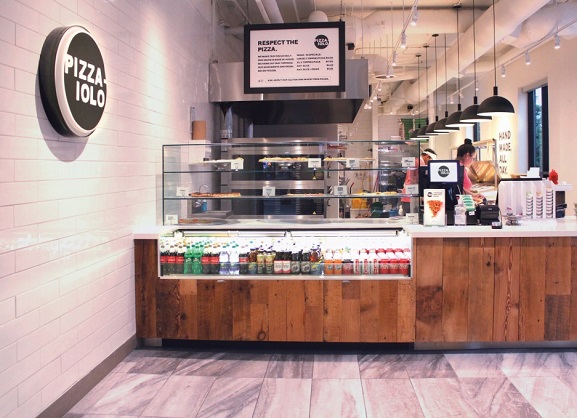 Pizzaiolo is changing up its design ingredients to reflect a more handcrafted, modern identity in its restaurant locations and website.
The Toronto-area pizza chain tapped agency Good&Ready to rebrand and completely redesign its 41 locations by 2020, three of which have already been completed.
The Pizzaiolo colour scheme has been overhauled, and its oblong white-on-green logo replaced with a white-on-black circle: in one design iteration "pizza" and "iolo" have been separated with a dash and placed atop one another.
Ron Craig, chief operating officer of Pizzaiolo, says splitting up the name with a dash is not only visually interesting but "helps punctuate the pronunciation of the name" ("pizzaiolo," in Italian, translates to "pizza maker."). It also helps further its goal of putting pizza front and centre, which is also being accomplished through its new tagline ("the pizza maker's pizza") and as a new location design: the prep area is being moved to the front, which, according to Craig, helps customers better see the care and quality that goes into the process of making a pizza.
Craig says that there was a disconnect among consumers between the product quality and the brand identity. Beyond the store design, the new logo is "clean, modern and feels better quality," Craig says, adding that it better reflects a quality, artisanal product with four generations of history behind it.
With respect to the colour combination, there are more than a few pizza chains with a green colour scheme. Pizza Nova and 241 Pizza, which have 140 and 62 locations in Ontario, respectively, and similar roots in the Toronto area, currently have green branding, while the colour is also part of the branding of larger chains like Pizza Pizza, Panago and Papa John's. Pizzaiolo's branding aims to differentiate itself not just by colour, but through a look and design aesthetic that feels more handcrafted to communicate how the brand is "small and local," Craig says. This is also reflected in the brand's "hand-made, all day" slogan that it's using on its pizza boxes and as a design feature.
Craig says that while the design scheme is streamlined, the brand's pizza offerings are not. Pizzaiolo will continue to offer a broad range of pies to attract as broad a consumer base as possible, and this includes meat, vegetarian, vegan and gluten free varieties. The brand, however, is expanding, having opened a location in Streetsville in February, its fourth location in the Mississauga region.
Craig tells strategy that Pizzaiolo tested the new look and feel at the brand's location in Toronto's Beaches neighborhood, one which is a bit different from others in that it's a bit bigger, with a larger seating area and a patio. He says the design was well received in a location that's already established itself as a successful one for the brand. A new branded website is coming in August, he says, and in the fall, Pizzaiolo will be more active on digital and social to promote the redesign.