Sustainability is the centre of Loacker's new platform
From Shopper Marketing Report: The Italian confectionery makes everything from ads to packaging about being "More Than Good."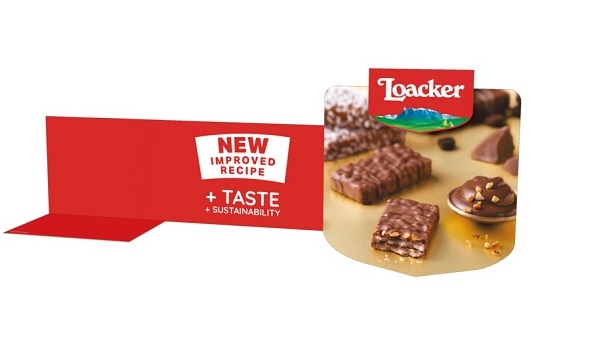 Loacker, the Italian wafer and chocolate specialties maker, is doubling down on its commitment to sustainability with the launch of a new platform that touts changes it has made to its product offering, recipes, packaging and logo.
Called "More Than Good," the platform is a showcase of the choices the brand has made over the past two years "to achieve delicious products, while also caring for people and nature," says Yvonne Profanter, head of communication for the brand.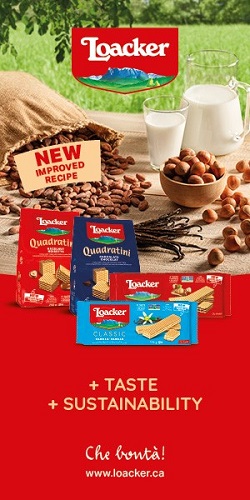 "In 2019, Loacker started an important path of evolution and reinforcement of its values through our unique brand promise: goodness is a choice," explains Profanter.

To celebrate its progress down that path, Loacker has redesigned its logo and packaging. Building from the historic white font on red background, the new logo incorporates the Sciliar, a peak within the UNESCO-designated Dolomites Mountain range. The logo is framed by the Heritage Shield, a shape "that harkens to three generations of family history," says Profanter.

Furthering its push toward sustainability, Loacker has reduced the plastic used in its packaging by an average of 15%, and it has called out its new recipe – featuring a greater number of hazelnuts in its cream – directly on the package , all while incorporating a QR code that allows consumers to learn more about the changes the brand has made.

Loacker has long held environmental awareness as one of its key values, she adds. In the 1970s, the brand used energy from its wafer ovens to provide heating in its facilities. And today, all Loacker facilities rely strictly on green electricity.

But the brand has now started to take its sustainability efforts straight back to the sourcing of its ingredients.

In that spirit, it has launched a sustainable cocoa farming program, with a focus on shifting the brand to using 100% sustainable chocolate by 2030.

In addition, the brand has entered into agreements with 80 local farms to source all of its hazelnuts from Italy that maintain the best agricultural practices, including efficient resource use such as drip water irrigation and the avoidance of herbicides, says Profanter.

Loacker has also launched what it calls the Madagascar vanilla project, which sources high quality bourbon vanilla pods from traceable, sustainable and fair trade sources.

In addition to talking about these efforts at point-of-sale with shelf talkers and danglers in retailers across Canada, the brand is using TV and digital advertising, social media and PR to draw attention to its new platform.

Loacker used a combination of internal and external companies to help execute the packaging changes and the consumer marketing communication in Canada. Bespoke Perspective handled the social, and Strategic Objectives the PR.