AToMiC 2022: The power of design thinking
Reimagining iconic manuals and symbolic flags to address the world's most complicated issues.
This story was originally published in the 2022 Spring issue of strategy magazine.
By Wendy Kan
Design is a powerful thing. It can be used to translate difficult, complex issues into simple, visceral images, which is exactly what "Colours of Pride" set out to do.
Montreal non-profit Fondation Émergence and Rethink were inspired by the insight that, more than just a symbol of celebration, the Pride flag is also a reminder of past and ongoing hardships – and that the fight for acceptance and safe spaces needs to continue.
Indeed, many in the Western world believe that the acceptance of LGBTQ2+ communities is widespread. But in some countries, Pride marches and parades remain illegal and are repressed. In Russia, waiving the pride or transgender flag is seen as a provocative gesture and can lead to prosecution. Both in Canada and abroad, many homosexuals and transgender people are still targeted by hateful and violent acts.
"Colours of Pride" reinterpreted the Pride flag by using real bruises and injuries suffered by members of the community in Canada and around the world – converting the iconic symbol of joy into a version that was dark, haunting and powerful.
The campaign launched with a video introducing the "new flag" and featuring prominent members of the community who had suffered hate crimes. Seeded across social pages belonging to the foundation and the IDAHT (International Day Against Homophobia and Transphobia) and boosted via a PR push, the video quickly garnered interest from local and international news outlets.
Posters and pamphlets were translated into more than twenty languages and sent to Fondation Émergence's allies and counterparts across the world, for distribution in schools and community centers. A website featured the stories of courageous "victim-ambassadors" and provided tools and resources to help others heal.
"Bruise flags" were also sent to United Nations Member States that still have homophobic laws, specifically the six where the death penalty is prescribed as punishment for consensual sexual acts between people of the same sex.
The campaign further cemented Fondation Émergence's role in the fight against homophobia. The campaign video generated more than 2.4 million views and Émergence's social channels also grew by more than 150%, expanding its network of allies. Several officials and political decision-makers, including Prime Minister Justin Trudeau, mentioned Émergence and its campaign in official statements. And the work eventually went on to win two Golds at AToMiC, one in Design and another in Print/OOH, plus a Silver in Diversity.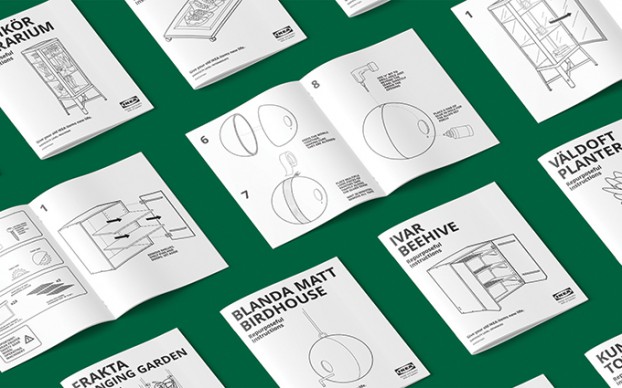 IKEA also used the power of simple design to bring awareness (and one solution) to a complex issue. Over the years, the retailer had become the poster child for disposable, fast furniture. But with a mission to become fully circular by 2030, the brand looked to become a leader in sustainability and needed a way to align consumers with its purpose.

Research showed that sustainable practices among Canadians had dropped as a result of COVID-19. Consumers were buying more and conserving less. So IKEA and Rethink created "Repurposeful Instructions," manuals that provide guidance on how to give new life to old furniture.

IKEA created 12 sets of instructions showing Canadians how to upcycle some of its iconic pieces. Using "Repurposeful Instructions," consumers could turn an IVAR cabinet into a beehive, convert FRAKTA shopping bags into a hanging garden, or change a BLANDA MATT salad bowl into a birdhouse.

The campaign was picked up in media around the world, and featured in publications such as Fast Company and the Daily Mail. The instruction sets exceeded the download target on IKEA's website by 37% and consumers spent 75% more time on IKEA's website.

With the success of its campaign, IKEA was able to demonstrate its sustainability commitment while also helping Canadians live a more eco-friendly life at home (and picking up an AToMiC Gold in Sustainability plus a Silver in Cause & Action along the way).