Air Transat repositions its brand to show why we travel
The leisure airline looks past the hassle of travel and to the life-changing experiences it connects people to.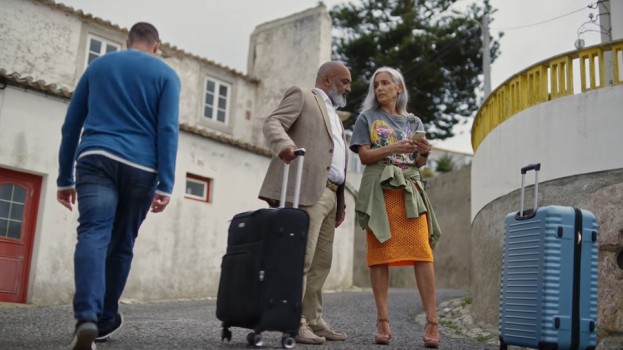 Between ongoing airport disruptions and the pandemic simply breaking Canadians from the habit of considering big, international vacations, travel can sometimes seem like more of a hassle than it's worth.
But Air Transat doesn't think that's true, and it's aiming to show that with a brand repositioning and campaign focused on the impact a trip any of its destinations can have on someone's life.
The hero spot in the new "Travel Moves Us" campaign begins with a question: "why travel?" That is followed up by several other questions, like "why change your routine?" or "why change your tastes?"
But each one of those questions is answered by a series of scenes featuring three different groups of travellers and the experience they have on their trips, be it trying new things, making new intimate connections or reconnecting with your roots.
Creative and media on the campaign are both being handled by Sid Lee. The first stage of the campaign is running on TV, outdoor and digital platforms in Ontario and Quebec, while a second phase targeting international markets is planned for the near future. The airline has also been running more tactical radio ads in both markets.
"The campaign is about how travel makes us more open," says Brian Gill, creative director at Sid Lee. "We all have apprehensions about change. We wanted to address this truth and speak to how meeting new people and experiencing new places and cultures bring us closer and make us more empathetic towards one another. It's about the joys of travel, including the challenges it poses – challenges that ultimately make travel one of the most rewarding experiences of all."
In 2016, Air Transat and Sid Lee debuted the "Vacation Is Calling" platform, which used highly cinematic videos filled with visual metaphors symbolizing the fact that excitement and anticipation for trip doesn't begin when they step on a plane, but as soon as they book a trip.
A major difference in the new platform is skipping ahead to the trip itself and the experiences it entails. Though it still focuses on things that will have emotional relevance with the audience, it does so in a more grounded and recognizable way. Maria Pagano, senior director of brand and customer experience at Transat, says this is an approach that is authentic to the company, while still allowing it to be bold and recognizable.
"Our strategy is rooted in the expression of a strong, assertive brand identity, along with an authentic positioning that is supported by a corporate culture with a 35-year history," she says. "That authenticity is reflected in the creative choices we've made for our campaign, which features characters who resemble our customers and the experiences they share with us every time they fly with us."
One similarity between the two platforms is that, much like some executions in "Vacation Is Calling," Air Transat is also trying to show off the full breadth of its travel offerings. While the airline is most associated with sunny, tropical locations and resorts, the campaign's hero spot also shows off what appear to be some more urban, European destination – though, by design, the exact locations aren't specified.
"We have been primarily known for our South packages and transatlantic flights, and we are now putting forward our culture and expertise regardless of the destination or nature of the trip," says Joseph Adamo, chief sales and marketing officer at Transat.
The hero spot was directed by Caraz, with Montreal band NOBRO creating the song "Better Each Day" in both English and French for the campaign.