Transat offers tips to European travellers
The airline wants vacationers to see its employees as expert travel guides.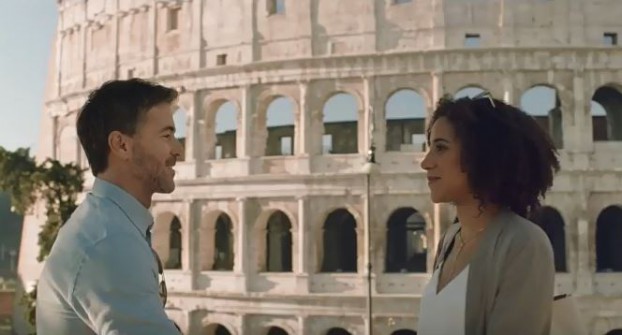 Leisure airline Air Transat has launched the latest phase of its "Vacation is Calling" platform, with renewed focus on European destinations.

In the main campaign video, a couple is seen visiting to the Colosseum and other popular tourist destinations in Rome. But it turns out they are still en route to the city. During their flight, an Air Transat flight attendant has been offering the pair travel tips, and they have been imagining the vacation they are about to experience. In addition to directing them to the Colosseum, the flight attendant lets them know where they can find the "best gelato ever."

The work, led once again by Sid Lee, continues to capitalize on the insight that travellers begin to experience the emotional benefits of travel the moment they plan and book their vacations, says Geneviève LeBrun, VP of marketing at Transat Tours Canada. They feel better knowing what lies ahead – discovery for some, rest and relaxation for others. Those "moments of anticipation" have been key to how the brand has positioned itself in recent years.

The spot also intends to show that Air Transat is there to "help consumers and travellers optimize and make their holidays as successful as possible," says LeBrun. "By sharing a tip, a little hidden gem, a different thing that you will remember when you do come back, such as your best gelato ever, this is truly part of our DNA."

The 2016 campaign that launched the platform put even greater emphasis on the "dreaming" and anticipation that ensues booking a trip, with a cinematic two-minute video showcasing tropical destinations in the south. Last year's effort  brought the same focus towards European destinations, a focus for the brand heading into the summer months.

The campaign began on March 26, a time when many begin thinking about their summer holidays. It includes print, radio and out-of-home executions, shorter 15-, 10- and 6-second versions of the main spot, as well as a content web series featuring Transat travel experts discussing three southern destinations: Cartegena, Columbia; Riviera Maya, Mexico; and Puerto Plata, Dominican Republic. Some assets will remain in market until the end of the summer.

In its European vacation marketing, the airline targets "experience seekers" who want to travel abroad and discover different places and cultures and the "family and friends" segment consisting of people visiting family or returning to their roots.