The ROM makes its latest campaign out of stardust
Dust from a meteorite was used to create assets that reflected themes in a new exhibition by Kent Monkman.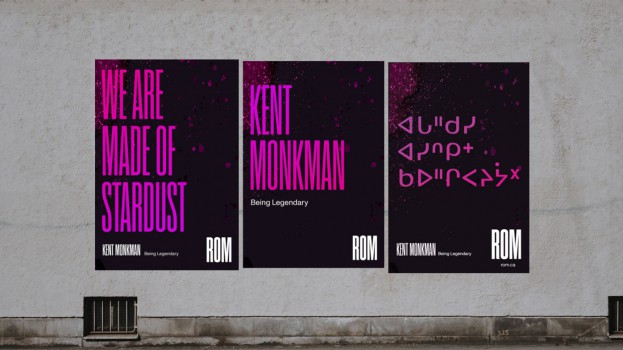 In 2017, a study confirmed one of Carl Sagan's most famous quotes, delivered during an episode of Cosmos in the 1980s – that we are all "made of star stuff," since the same atoms that make up our bodies were created within the core of a star.
Artist Kent Monkman used his own version of the line – "we are all made of stardust" – as the title of a painting in Being Legendary, his new exhibition at the Royal Ontario Museum. And the ROM has latched onto that powerful idea to promote the exhibition's opening.
Being Legendary features 35 paintings, in addition to sculptures and etchings, most of which are new works from one of the country's most renowned Cree artists. Monkman was also given full access to the ROM and its holdings to get inspiration for the exhibition, which tells the history of Turtle Island as seen by a gender-fluid alter ego, Miss Chief Eagle Testickle. The exhibition is meant to reflect about how collections in museums are curated and presented in the modern day, and runs until March.
One piece in the exhibition, "We Are All Made Of Stardust," is a painting of Miss Chief Eagle Testickle at the beginning of time, representing knowledge of the stars, just one piece of knowledge passed on by Indigenous people through stories and art as time goes on.
Created by Broken Heart Love Affair, a campaign promoting Being Legendary takes a few degrees of separation out of humanity's connection to stardust. Posters and a mural were created using dust from a meteorite, which was crushed by the ROM's own rock crusher and mixed with paint by Manitoulin Island-based paint-maker Anong Migwans Beam.
A video in the campaign shows a version of both Miss Chief's origin, as well as the posters being created: a pink comet crashes into the earth and is discovered by a young Indigenous girl, who smashes it and turns it into paint that she uses to create posters with the message "We are made of stardust."
"Being Legendary is emotionally complex and at times disturbing, but the show intentionally builds toward a sparkling optimism," says Lori Davison, chief marketing and communications officer at the ROM. "We wanted the campaign creative to convey a similar emotional crescendo."
The video portion of the campaign was filmed by Haudenosaunee director Shaunoh, who worked with BHLA CCOs Craig McIntosh and Jaimes Zentil to on a creative approach designed to evoke childlike innocence and curiosity. The campaign was also developed with input from Indigenous talent who worked on both sides of the camera.
"The child-like awe is what we want people to take away from both the campaign and the exhibition," says McIntosh, who added that the team wanted the campaign to be distinct from Monkman's work, while still "echoing some its themes."
"Kent Monkman's paintings are massive in scale, hyper-realized and detailed," Zentil added. "Like a comet, his artwork makes a huge impact, so we leaned into that concept for the campaign."
OMD is handling the media buy.