Tre Stelle adds cream cheese to its product portfolio
The Arla brand is leaning into baking occasions and colourful, differentiated packaging to take on an entrenched global player.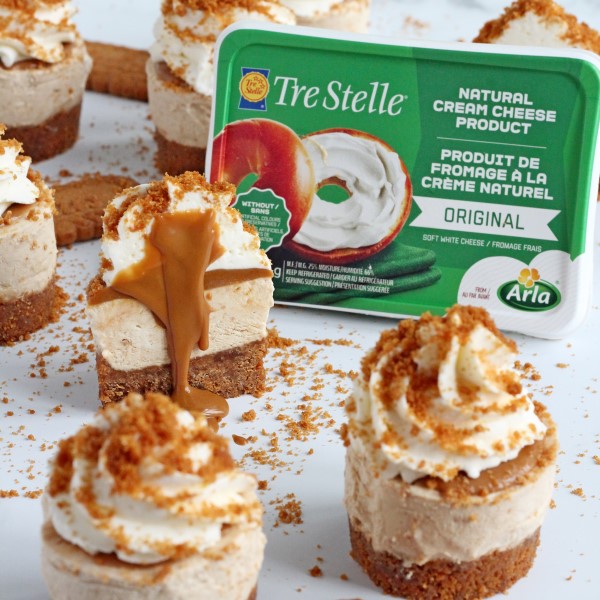 It's a question of which cream cheese rises to the top with Tre Stelle's latest product innovation, a new competitor for dominant category player, Philadelphia.
The Arla brand, which recently launched a meat alternative made from cheese to tap better-for-you trends, is out with a five-SKU cream cheese lineup.
The launch is being supported by in-store blades (see, below), danglers and $1.50-off coupons to drive purchase.
According to Tre Stelle cream cheese senior brand manager, Brendan McDonough, its POS, like its packaging, is bright and vibrant to attract eyeballs.
The new Tre Stelle cream cheese messaging, "tastes like more," is centred around indulgence, and McDonough tells strategy it's leaning into holiday occasions, particularly cheesecake baking.
The design is meant to be distinctive, he says, with a rectangular pack, to further stand out from the competitive set.
Previously, Arla had its own branded cream cheese. However, given that Tre Stelle is a trusted brand with 60 years of brand equity, McDonough says the new branded line is a "perfect extension to our existing portfolio."

McDonough admits that the cream cheese category is dominated by one major competitor. However, he says Tre Stelle's differentiator is that is has none of the stabilizers or artificial ingredients typically found in other mainstream cream cheese brands, making Tre Stelle the cleanest category choice.
The company recently invited five foodie influencers to amplify the Tre Stelle Cream Cheese "Tastes like more" positioning, part of a top-of-line campaign that came to market in September. It was launched across social, and included an influencer campaign that rivaled legacy brands for taste and spreadability.

The Arla brand also created a "Tre Stelle Café" sampling program, partnering with popular cafes in major Canadian cities to offer cream cheese with a bagel. Arla partnered with PC Express for a sample initiative to include its product to consumers in their online grocery orders.
Tre Stelle Cream Cheese comes in a variety of flavours including Original, Organic, Light, Lactose-Free and Herbs & Spices. It is widely available in grocery stores across Canada.
For PR, Tre Stelle worked with Evangeline, with support from OKD for media and Cruel for sampling.