CDSS creates a LinkedIn network to bridge the employment gap
The non-profit's new campaign aims to connect employers with vacancies to the 50% of people with Down syndrome who struggle to find a job.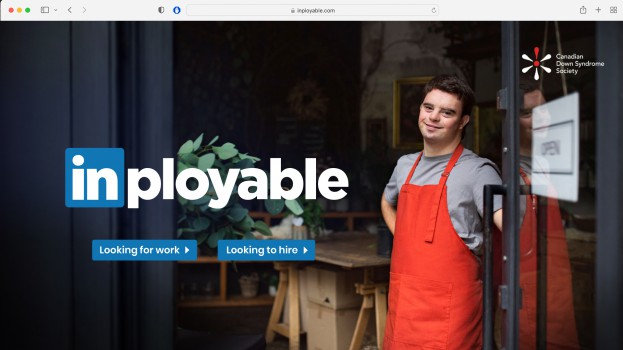 The Canadian Down Syndrome Society (CDSS) has an answer for employers who are facing labour shortages.
Called "Inployable," the effort looks to showcase how people with Down syndrome – over 50% of whom struggle to find paid employment – could be the answers for employers across North America who are struggling to find qualified candidates to fill their vacant job openings. The goal is to dispel the notion that people with Down syndrome are less capable or valuable within the workforce, while creating a bridge for those people to connect with the employers who are searching for labourers.
"Inployable" primarily operates as a recruitment community on LinkedIn, designed to make discovering and hiring talent with Down syndrome easier for employers. It also features resources to help those employers, such as FAQs and guides to help them create more inclusive hiring and training processes.
"Although many people with Down syndrome have demonstrated abilities and aspirations to engage in meaningful work in the community, a large percentage of the Canadian population with Down syndrome remains unemployed, or under-employed, or may not be working to their full potential," explains Laura LaChance, executive director at the CDSS. "This initiative addresses that disparity. People with Down syndrome have a right to be employed in the community, where they can work alongside people of all abilities and earn competitive compensation."
The network is being promoted through a launch film, developed, as the network itself was, with creative partner FCB Canada. The nearly 90-second spot showcases individuals with Down syndrome as they share their thoughts and frustrations about the challenges they face finding work – namely, by executing increasingly creative ways to destroy their resumes as they turn to LinkedIn for job opportunities instead.
The film is supported by hyper-targeted messaging that speaks directly to North American companies within sectors most in need of talent. A supporting media buy is amplifying the awareness campaign among business owners and HR personnel across the continent.
"This year, we wanted to portray the Down syndrome community in a different light, to let companies know that there is an untapped community ready to get to work," says Andrew MacPhee, ECD at FCB Canada. "The 'Inployable' campaign is about providing the community with independence through equal access to jobs and employers."
Suneeva handled production for the campaign, Initiative handled media and Glossy handled the PR.