Banking on RBC
An animated advisor named Arbie and some carefully targeted corporate philanthropy have given the brand a more recognizable – and more human – face.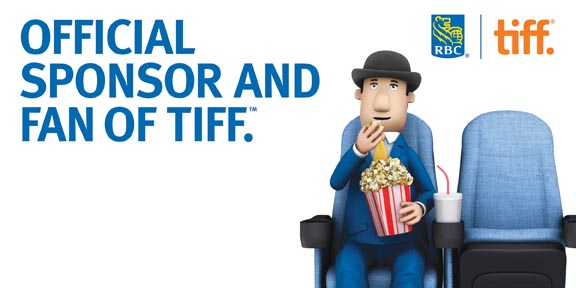 How do you freshen up a 143-year-old financial brand and make it stand out from the competition? For RBC, the solution was an animated financial advisor in a bowler hat.
Research conducted by RBC in 2007 had shown that the brand needed more warmth, more accessibility and more advice-based propositions. It also revealed a problem with brand link.
"People would see our advertisements and not be able to relate them back to a company," explains Jim Little, chief brand and communications officer, who joined RBC in 2007. "We needed an icon that would raise our brand link but also inject some empathy."
With the help of creative agency BBDO, RBC developed Arbie, an affable chap in a navy blue suit, who was first unveiled during the 2008 Beijing Olympics in a series of vignettes that showed him diving, rowing and sprinting.
"He was at that stage a pretty minor component of our advertising, meant strictly as an iconic memory button," Little says, admitting that at first customers weren't sure what to make of the character. "His role has grown as people's appetite for him has [increased]."
Nowadays, Arbie stars in all of RBC's product ads, from credit cards to mortgages, taking the spotlight via TV, digital, OOH, print and in-branch. And it appears he's having quite the effect on people.
"We now have 92% brand link with Arbie," Little says. "That's up from 25% or 30% in a good period over the last decade."
"Our goal has been to position RBC as the modern way for all Canadians to get advice they can bank on," adds Peter Ignazi, SVP and ECD, BBDO Toronto, alluding to the "Advice you can bank on" tagline launched in 2010.
"Through Arbie we've tried to make the bank's image more accessible and consistent across all touchpoints," he says.
RBC is currently Canada's largest bank by assets and market capitalization, and among the 20 largest banks globally, with offices in over 55 countries. According to Ipsos Reid, it leads in brand awareness (both aided and unaided) for all FIs in Canada. And in a brand value study released by London-based Brand Finance last month, RBC retained its position as Canada's top brand, valued at $7.55 billion.
While retail banking is a major focus here at home, RBC has recently been selling off branches in the unstable U.S. market and focusing its American business on high net worth corporate finance. With the company divided into five business segments – Canadian banking, wealth management, international banking, capital markets and insurance – it's been critical to develop programs that can work in a variety of markets.
When it comes to the corporate brand, as communicated through event sponsorships and philanthropic projects, Little says there's been an intentional focus on baby boomers and what he calls the boomer proxy.
"[Outside of Canada], we're really interested in educated, affluent opinion leaders who've got complicated financial needs," he says. "In Canada, we're a universal bank with everyone as our target, but the boomer represents a complicated wealth-transfer challenge that everyone is chasing – it's where the money is."
RBC's boomer focus has inspired the brand to align itself with interests ranging from golf and environmental issues to wine and the arts.
Since 2008, RBC has shown Canadians its dedication to culture with its sponsorship of TIFF. Last month, as cinephiles and starlets filled Toronto, Arbie seemed to reside on every second transit ad and billboard – eating popcorn, climbing out of a limo, waiting for autographs – with ads declaring the FI an "official sponsor and fan of TIFF."
But Arbie wasn't RBC's only colourful character at TIFF this year. A series of 30-second spots shown at gala screenings promoted its sponsorship of the RBC Emerging Filmmakers Competition (now in its third year), each featuring a gent dubbed Uncle Marv, who comes to the rescue of a fledgling filmmaker. As the superimposed text explains, "Not everyone has an uncle in the biz. That's why we support emerging filmmakers."
RBC has also become a major sponsor of several Independent Filmmaker Project programs in New York, promoted via Vanity Fair inserts, with a similar U.K. sponsorship launching soon.
In the sports arena, the brand has invested heavily in golf, hockey and the Olympics.
"Our golf program is really the flagship sponsorship for our Canadian, but also our North American, brand building," Little says. "We've got tournaments, we've got players, we've got TV units and we've got local hosting."
While RBC's sponsorships look very different on the surface, Little says the company's approach remains consistent. "We get rights fees for something, we put TV or advertising around that, and then we do client hospitality at an event," he says. "We actually like being a bit formulaic, not that anyone would see that because we love the creative to be exciting."
Of course, the jewel in RBC's philanthropic crown is the RBC Blue Water Project. Launched in 2007, it's a 10-year, $50-million commitment to global, regional and community initiatives that protect fresh water as a natural resource.
"Water is a very serious emerging issue – it will be what divides us in the next 50 years," Little says. "Since we're everywhere in the world, it's something you don't have to interpret. You can just say 'we're in the access to clean water business' and then local folks take it and run with it."
The program kicked off with a $10-million donation to Cirque du Soleil founder Guy Laliberté's One Drop Foundation, which works with Oxfam on international conservation and awareness projects, followed by the public launch of its grants program. Since 2007, RBC has committed more than $28 million in single- and multi-year grants to over 380 organizations.
At the beginning of Blue Water, RBC focused on educating employees about the cause and establishing a solid track record, rather than making a lot of noise in market. In 2009, Montreal agency Cloudraker (which handles the brand's hockey program) was enlisted to take the project to the next level.
"We weren't tasked with telling people what RBC planned on doing, we had countless grant recipient stories about what they had already delivered on," says Christina Brown, creative director, Cloudraker. "They asked us, point blank, to reinvent the way CSR campaigns are done. It was the single best client brief I have ever gotten."
She continues, "When we discussed ways to tell the story, we all agreed that RBC was going to be the host, but that the grant recipients were ultimately the ones who would drive the conversation. The 'let's do good then spend a bunch of money telling people about the good we did' model is outdated and consumers see through it."
Videos housed on a Blue Water microsite allow organizations to tell their stories and educate the public. Blue Water has also supported a number of events that are raising awareness about water issues. In 2010, RBC teamed up with Jacques Cousteau's granddaughter, Alexandra Cousteau, to sponsor Expedition Blue Planet: North America, a five-month expedition with stops across the U.S. and Canada.
In March of this year, RBC was the presenting sponsor of Water: The Exhibition at Toronto's Royal Ontario Museum, which brought together multimedia installations and hands-on exhibits to demonstrate the importance and power of water. The event was two years in the making.
"We want to make the commitment to water long-lasting," says Little, noting that the next step will likely be the addition of third-party fundraising. "We want to spread more money into more projects and have a greater impact."
For a brand that was perceived as lacking warmth a few years ago, RBC has made impressive headway. From the launch of the Blue Water Project to the goofy charm of Arbie, the bank has earned a tip of the bowler hat and its rightful place as our overall Brand of the Year.
Brand flashback
Long before Arbie – and before the Royal Bank of Canada shortened its moniker to RBC –  there was Mary,  an accessible "girl next door" who implored consumers to try her bank in ads from 1968 to 1976. RBC took a trip down memory lane with us, revealing the slogans that got the brand to where it is today.
1931 You will like banking at the Royal
1950 You can bank on the Royal
1957 There's nothing quite like money in the bank
1960 See how pleasant banking can be at The Royal
1961 The bank with 1,000 front doors
1969 We like to take care of you at the Royal Bank
1970 The helpful bank
1971 We're approachable
1979 When you succeed…we succeed
1980 Can do!
2004 First for you
2008 Simplify your banking. Simplify your life
2010 Advice you can bank on
Jump to:
Cadbury's success is no secret