CASSIES Bronze: Telus makes a TV play
The telco introduces "Danny the installer" to get more consumers on board with Optik TV.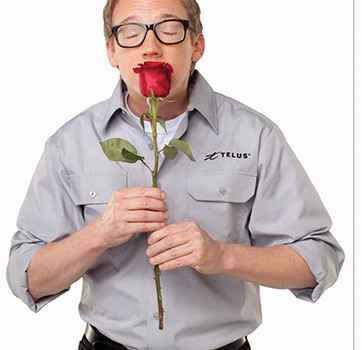 Services General
Situation Analysis » Since 1996, when telco Telus and cableco Shaw began offering high-speed internet services, there has been a race in Western Canada to "own the home," a term used for the triple-play bundle of phone, internet and TV. Shaw was first to offer a triple play in 2006 with the launch of its VoIP digital home phone. This hurt Telus's home-phone business. In late 2007, Telus counter-attacked with Telus TV, but this basic digital offering was a disappointment. In summer 2010 it tried again with a superior product, Optik.
Strategy & Insight » One of the lessons from 2007 was the idea that "build it and they will come" does not work in the face of consumer inertia. So Optik had to displace the negative image of Telus TV, and at the same time break down resistance to having a cable guy tramping through your home. The "seeing is believing" solution was to focus on superior product attributes, while introducing a friendly face – Danny the installer.
Execution » Danny became the messenger for Optik's many features. He launched on TV, but quickly became a brand element throughout the media plan, which used TV, radio, print, OOH, web, mobile, social, experiential and direct mail.
Results » Six months after launch, Optik TV subscribers were up 56%, and up another 29% in Q1 2013. Share more than doubled since launch, predominantly at the expense of Shaw.
Cause & Effect » Given consumer inertia, and the pre-existing negative image, it's fair to say that the launch could not have succeeded without the advertising support.  Other factors were also in line with historical levels.
Credits:
Client: Telus
VP marketing communications: Anne-Marie LaBerge
Directors marketing communications: Rachael Petersen, Lara Johnson
Agency: Taxi Canada
ECD/GM: Jordan Doucette
ECD: Kevin Barclay
CD: Matt Bielby
ACD: Dave Smith
CWs: Nikki Jobson, Tyler Jones, Alex Bird, David Giovando
ADs: Ryan Semeniuk, Derek Anderson, Tony Hird, Darcy Twarog
Managing director, Telus: Mike Leslie
Group account director: Caroline MacGregor
Account directors: Meghan Hawes, Stephanie Santiago
Digital producer: Johannes Froysaa
Broadcast producers: Indre Sakus, Sarah Vingoe, Steve Emmens
Media: Cossette Media
VP, media director: Tim Monaghan
Group director: Sarah Wickers
Media planner: Sarah Morris