CASSIES Gold: Earls brings lobster to the masses
The restaurant's lobster promotion took the intimidation factor out of eating the dish to result in its most successful event of its kind to date.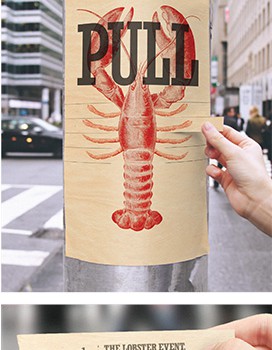 Events, Seasonal & Short-Term
Situation Analysis » Premium casual restaurant chain Earls has been in Canada for more than 30 years, but had become a little tired in the eyes of its consumers, and share was eroding. Earls needed a makeover, and it made sense to start by reinvigorating one of its oldest promotions – Earls' annual Lobster Event in October.
Strategy & Insight » Earls attracted a fun-loving crowd, but that wasn't how they saw lobster. For many of them, a lobster dinner was a pricey, high-end affair, hard to eat and downright intimidating. Given this, traditional "food and price" advertising would not be enough. Instead, Earls had to find a way to break down the intimidation barrier, and make lobster fun.
Execution » This was built around the idea of "Snap, Twist and Pull," using eye-catching graphics in the brand's colours. For example, wild postings had a removable tab so consumers could practice their pulling skills, while street teams taught claw-cracking. And when people turned up at the event, they were compelled (in a fun way, of course) to wear a plastic bib with step-by-step directions on how best to eat their lobster. All of this was concentrated in the 10 days before the event and the three-day event itself, with fully integrated materials in restaurant and OOH.
Results » The client said the 2012 lobster event was by far the most successful in history. Same-store lobster sales were up +111% vs. year-ago,
and promotional partner Alexander Keith's saw a 54% lift.
Cause & Effect » The only variable versus the prior year was the "Snap, Twist and Pull" campaign.
Credits:
Client: Earls Restaurants
VP marketing: Monique Gomel
Marketing manager: Taili Coates
Agency: Leo Burnett
CCO: Judy John
CD: Lisa Greenberg
Group CD: Sam Cerullo
CW: Marty Hoefkes
AD and designer: Mike Morelli
Print producer: Lorenda Bennett
Broadcast producer: France Piacenta
SVP account management: David Kennedy
Group account director: Allison Ballantyne
Account executive: Angelica Bennett
VP of strategic planning: Brent Nelson
Digital project manager: Cimmeron Kirk
Project manager: Lyndsay Cattermole
Starcom media planner: Devyn Perry