CASSIES Bronze: Newfoundland and Labrador finds itself
The province targeted sophisticated travellers in search of the authentic and the unexpected.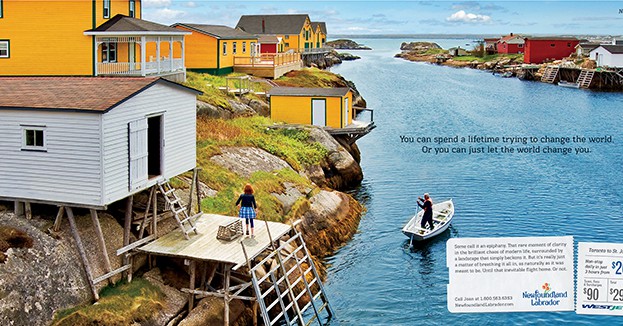 This story appears in the February/March 2016 issue of strategy.
Bronze: Long-Term Success
Situation Analysis:
With a short tourism season of about 75 days (June to August), increasing annual non-resident visitation to Newfoundland and Labrador (NL) above the 2011 level of 335,600 visitors was a challenge, especially given capacity constraints during peak season, perceived and real inaccessibility, negative perceptions of the weather and an increasingly competitive travel industry.
Insight and Analysis:
A total of 88.4% of visitors to NL, of whom 76% arrive by air, come from elsewhere in Canada. The biggest opportunity group didn't see themselves as tourists, but as increasingly sophisticated travellers. Primarily singles/couples age 45 and up, with no children living at home, and above-average household income, they were curious people, in search of unexpected, intriguing, and authentic destinations. This was something NL could provide while staying within Canada.
Execution:
Launched in January 2012 with an initial annual budget of $4 to $5 million, "Find Yourself" focused on the GTA/Ottawa with secondary markets of Calgary, Halifax and English-speaking Montreal. The campaign romanced the experience of being in Newfoundland and Labrador versus the more typical tourist inventory of places to go, sights to see and things to do. All executions across television, newspaper, digital, social and search leveraged the three brand pillars of NL – its people, culture and natural environment.
Results:
From 2012 to 2014, 1,115,608 visitors came to the province by air, growing each year by an average of 5%. Spending by non-residents arriving by air increased year-over-year from $328 million in 2011 to $402 million in 2014, an increase of 23%. This $72 million increase was achieved with a cumulative media spend of just over $13 million.
Cause & Effect:
Interest in NL as a travel destination increased by 60% over the campaign period, with visits to NewfoundlandLabrador.com increasing to more than 1.9 million by the end of 2014. Since 2011, NL has outperformed the Canadian tourism industry where visits and spending within the country have remained relatively flat. NL Tourism's media budget decreased three consecutive years following the campaign launch. There was no unusual price discounting on travel to NL by travel providers or provincial tourism operators.
Credits:
Client: Newfoundland and Labrador Tourism
Assistant deputy minister, tourism: Carmela Murphy
Director of tourism marketing: Andrea Peddle
Manager, advertising and communications: Carol Ann Carter
Advertising officer: Andrew Weir
Internet marketing specialist – social media: Amy Fisher
Internet marketing officer – website: Shelley Magnusson
Agency: Target
CD: Tom Murphy
Creative group heads: Randy Diplock, Kev Kalyan
CW: Dave Sullivan
Digital lead: Matt Tucker
Digital developers: Trevor Kearsey, Ryan Strickland
Digital imaging artist: Dejan Vuchichevic
Director of account management: Catherine Kelly
Account director: Ernie Brake
Account manager: Alaina Collins
Account executive: Allison Daley
Agency producer: Heikki Kuld
Production manager: Cindy Wadden
Director of media: Jef Combdon
Media manager: Kelly Reddigan