Battle of the (not so tall) media giants
Media Experts CEO Lauren Richards breaks down the new media bosses.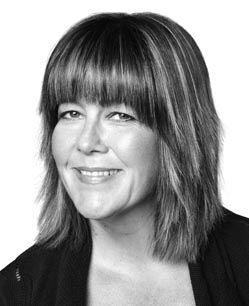 It's that time of year again, the real beginning of the new year in our business.
The time we start fresh. New shows, new deals, new expectations, new rates, new levels of performance and at the same time, it's not so new, when you get a little long in the tooth, as it's "newness" on an annual cycle. This year is very different, though. This year we have new leaders at the helm of every major broadcaster, all but one of them multimedia powerhouses. I find this a very interesting turn of events, even more interesting than determining who may gain some ground on their new season acquisitions, who's blowing smoke about their expectations of delivery. I believe that leadership is crucial to the performance of an organization and makes a difference on every level of a company's identity, and find this coincidence of timing the real intrigue of the new season.
Happy, driven, inspired employees make or break the performance of a company and the first year is crucial to the leader's ability to gain their trust and respect. It's not an easy year. They have to learn the business inside out, approve or be involved with strategic programming decisions and acquisitions, build the relationship foundation with clients, make sure they have the right people in the right roles, create a vision for the company and galvanize support behind it. And ideally they try to do all of this without getting a divorce or losing ground with impressionable children. I'm sure these fairly newly anointed leaders haven't been getting a heck of a lot of sleep of late, the only place they have likely found some time.
So, who are these leaders? Well, we have an American telco and packaged goods executive in Kevin Crull, who's running the powerhouse of Bell Media, anchored by CTV. We have the sports guy in Keith Pelley who is assembling a team to take them on at Rogers Media. We have Paul Robertson at the helm of Shaw, who, although not new to the media buying community given his previous role of television president at Corus, is still in a whole new league of scale and stature with taking on the running of the newly acquired Canwest. And we even have a woman (gasp!) at the helm of the fourth player, CBC, in Kirstine Stewart. She's certainly been an integral part of the shiny new CBC.
So what moves will these individuals make to accomplish all their lofty goals? Who are they, anyway? What are their deepest, darkest secrets?
I will answer all of this and more. Well, not quite, but I'll attempt to shine a little light on who these competitors are as leaders and as people.
They are as different as can be. What they have in common is that they are all respected for not only being smart, sound leaders but for being honest, decent people. It's going to be interesting to watch what happens at the companies they oversee.
We saw their styles personified in this year's upfronts. CBC led the pack by moving their new season presentation two weeks earlier than usual, three weeks before the big three. They wanted our attention fully on them and their schedule.
In a fine move, Kirstine hired – or shall we say pinned down – Jack Tomik into a proper job of head of sales (or in CBC parlance, general manager, CBC Revenue Group) after many wayward years as a meandering consultant, learning what goes on at the competition. In addition to that, he sorta knows the inside out of what went on at Canwest/Global, given he was in charge of their sales and marketing for many years.
With Kirstine in charge, the CBC presentation was shorter, punchier and more relevant. The event was more interesting and very much connected to where her heart and soul is – programming.
Rogers was next with their theatre-produced entertainment, ensuring us they were humbly getting better every day. They were snappy, cheeky and proud of their significant move forward into "real" programming.
Shaw put their show on at the Sony Centre and it was themed as being "Shaw-some." They're playing defence, saying "not a need to change much given our program strength," with a campy, retro vibe.
And Bell Media/CTV finished the week, interestingly enough, also at the Sony Centre, with an extremely high-quality produced show that was solid on information while proudly debunking some of the myths of television, with less glitz and glamour of previous years.
The upfronts are one way to get an impression of these leaders –  after all, they lead the presentations. You can get a sense of their beliefs, their personalities, their leadership styles, but we need much more.
Another way to find out more about what makes them tick, what keeps them up at night and who they are as people is to ask some questions – some directly to them and some to their colleagues.
All four are married with children – a daughter for Paul ("we're evenly matched: three humans and three dogs"), two daughters for Kirstine and the millionaire's family of a boy and a girl (in that order) for Keith and Kevin.
Three of them aren't into having a "bucket list," preferring instead to live life with no regrets and do what they want to do now. (Not sure I believe them given how hard they all work; perhaps they don't desire the typical "bucket list" things like exotic travel.) Paul admits to wanting to play blues guitar like Eric Clapton.
Mentors and special people that helped enable their success were widely acknowledged by all. Paul quickly gave John Cassaday credit for the influence his transparent leadership style has had and the respect he shows to the team being key for building loyalty and trust with his troops over the years.
Kevin spoke of the important role Nestle played in launching his career with the right role models and management training. He rose through the ranks with frequent promotions earning him new geographic responsibilities and living arrangements. And through the nine years across different jobs and geographies, he had two mentors that he spoke to often and consistently over that whole period he was with the company.
Keith spoke of the effect that icons in the business had on him –  Gordon Craig, the founder of TSN, Ivan Fecan and Pinball Clemons. But it was Rick Brace who was the most influential in his career. "He always believed in me, he guided, encouraged and motivated me through much of my professional career," Keith told me. "I would not be in my current position without the support and learning I received from Rick Brace." And he credited his sister as being his mentor – a long-term cancer survivor who has helped Keith keep perspective.
Kirstine cited Isme Bennie, a pioneer for women in the distribution business of television, as an exemplary role model for a woman in the industry.
When I asked what kept them up at night, the answers were telling. Keith said, "I have never been a great sleeper – I usually have a couple of things on my mind!"
Kevin cited regulation issues, or lack thereof with Netflix being able to come in unregulated, noting that "we [the Canadian industry] will not implement the sensible dual-revenue stream business model for conventional broadcasting which is otherwise universal in North America and common around the world."
Kirstine shared a common refrain these days: "My BlackBerry keeps me up at night, not with worry, but with work."
And Paul provided some great candour about what keeps him up at night, admitting that he's wondering "How will TV evolve fast enough to maintain relevance as the digital generation changes all the rules?"
When I explored the various management styles of this illustrious group, I heard many wonderful things. Two of Kevin's key sergeants – Rick Brace and Rita Fabian – have been very impressed. Kevin's strong work ethic
and desire to learn from his team have earned their respect.
To quote Rick about Kevin, "What became immediately evident in his new role is that he is a consensus builder and a team player."
Paul describes his style as "a spirited coach who roots for the players. Everyone is motivated by pride of ownership, so my job is as much about supporting as directing.'
Keith speaks of surrounding himself with brilliant people with diverse skills and personalities, "and if you get the right people, magic can happen." Just like he helped create with the 2010 Olympics. Mitch Dent, who leads the TV division, speaks of the tremendous energy Keith brings to the group and how Keith is working more closely with their partners in the communications business: "He put plans in place to change work styles and teams almost overnight."
Kirstine also talks about building the best team, empowering them and clearing the way for them to succeed.
Two of the four said success to them is leaving the place better than they found it.
I think that will be the case for all four.

Lauren Richards is the CEO of Media Experts and a 28-year veteran of the media services industry. Prior to joining Media Experts, she led the Canadian operations of Starcom MediaVest Group and Cossette Media.