GOLD: James Ready calls back its caps
After a printing screw-up left millions of James Ready beer caps blank, its agency Leo Burnett was asked to explain to confused customers what had happened. It chose to use direct as a way to address each drinker and fix the problem.
The brand launched a Blank Cap Recall. Any drinker who received a blank cap on their beer could mail it back and in return would get "something" from the brewery as compensation – anything from a toy hamster to a ping-pong paddle.
James Ready received thousands of caps from drinkers and continues to do so. The fans have been talking about the recall on Facebook and discussing the items they got back. The blank caps may have raised doubts but the recall proved that the brand really does appreciate its drinkers.
Credits:
Client: James Ready
Agency: Leo Burnett
Chief Creative Officer: Judy John
Creative Director: Judy John, Lisa Greenberg
Copywriter: Steve Persico
Art Director: Anthony Chelvanathan
Account Exec:  Jordan Lane
Account Director: Natasha Dagenais
Group Account Director: David Buckspan
Print Producer: Gladys Bachand
Editor: David Nakata
SILVER: Mini's virtual vending machine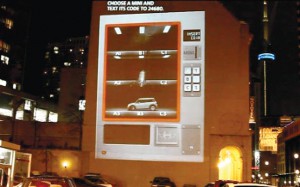 The Mini Vending Machine was an interactive night projection in downtown Toronto. Minis in different colour configurations were shown and passersby were invited to interact with them by texting to a short code to select the Mini of their choice, which then drove around in a fun animation, making its way down to the bottom of the Vending Machine.
A personalized SMS message was dispatched to participants, encouraging them to click through to a mobile-optimized web page to become a Mini Facebook fan.
Downtown high-traffic locations with a busy nightlife buzz were chosen for the projections. Each execution was videotaped and sent to the national press.
The Vending Machine reinforced Mini's cachet and cool factor, creating PR and social media buzz in Canada and around the world. To cap it off, Mini's counterparts throughout Europe and Australia are bringing the Vending Machine to those markets.
Credits:
Client: Mini Canada
Agency: Taxi 2
Executive Creative Director: Lance Martin
Art Director:  Jeff Maceachern
Writer: Alanna Nathanson
Account Manager: Tina Tieu
Agency Producer: Sam Benson, Hanna Bratt
Media Agency: Media Experts
Production:
Animation: Hatch Studios
Interactive: Fourth Wall
Mobile Marketing: Mythum
Projection Company: The Media Merchants
BRONZE: First United's street sculptures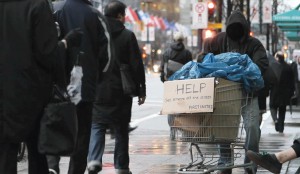 To create awareness for the good that First United does in the homeless community, specifically that they help get people off the streets, DDB placed life-sized statues of homeless people on streets in downtown Vancouver. Upon closer inspection it became clear that there were no people inside the soiled clothes. A cardboard sign reading "Help get someone off the street" accompanied each sculpture, along with a cup that contained slips of paper with directions to Facebook profiles of people who'd actually been helped off the street by First United, linking back to First United's website.
So far, PR has generated nine million media impressions. This includes newspaper and local television, as well as trade magazine coverage and numerous blogs. Although the main focus of the campaign was awareness, several people were moved to donate sizeable amounts to First United.
Credits:
Client: First United
Agency: DDB Canada
CDs: Cosmo Campbell, Dean Lee
Copywriters: Kevin Rathgeber, James Chutter, Cameron Reed
Art Director: Colin Hart
Account Managers: Kaeda Cameron, Karen Martin
Producer: Scott Russell
Model Maker: Aaron Jordan
Artist: Mark Jenkins
Jump to: