SampleSource a big scale hit
Request-based online model improves trial rates for CPGs.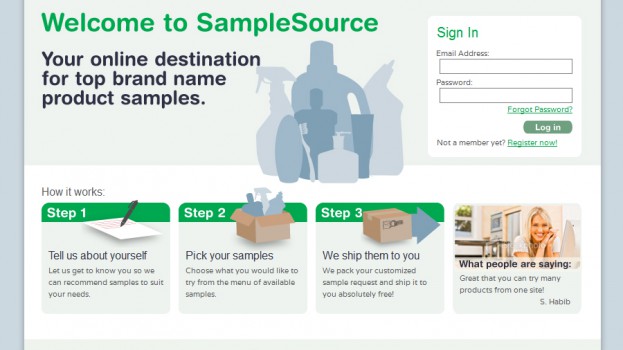 Sampling has gone digital with the Oct. 4 launch of SampleSource.com, a national multi-brand co-op sampling service that allows users to request bundles of samples online after creating a profile and being matched with the products best suited to them. Samples are then shipped to their homes.

"We were tired of the old traditional sampling ways, especially database methods and complicated experiential," says Rob Linden, SampleSource sales and marketing director and former lead of P&G's scale and capability department. "Some clients are still relying on vendors with databases that are three years old," he says. "Imagine how a consumer's habits and practices can change in three years."

The technology is a win-win for consumers, Linden says, as it offers one centralized website for them to try multiple products. It's efficient for manufacturers small and large because of its scalability, and the co-op method means marketers share many of the costs. Mail-to-home sampling has been out-of-reach for many marketers simply due to cost, he adds.

Sampling is an essential part of the marketing mix but can be expensive especially if your brand's products aren't getting into the right hands, says Beth Witkowski, John Frieda brand manager, KAO Brands, who used the site during the initial trial. "The request-based platform offers an innovative, cost-effective solution for brands looking to drive trial and ultimately convert potential consumers into purchasers…[and] the solicited nature of this program means less marketing dollars wasted and a higher ROI."

The Oct. 4 samples were gone in eight hours and the majority of consumers chose 75% of the samples they were offered, meaning less waste and better trial efficiency, says Linden.

"We have gone one step further and improved the process with our real-time targeting filters, segmentation profiles and de-duplication to stop the 'extreme' consumers who attempt to request over and over," Linden says. "Mis-sampling remains the number one driver of bad sampling ROI, particularly in traditional methods like street or event sampling."

Sharon Joseph, senior brand manager, Sensodyne, says over 10,000 Sensodyne samples were requested by site users within 24 hours. This was the first time that the GlaxoSmithKline team ventured into a multi-brand sampling program. It was attracted because of the measuring analytics provided,  such as real-time access to profile information that shows who is requesting what samples, and where.

"As a marketer we are always looking to improve metrics, execution and delivering to our consumer needs," says Joseph. "[We were also attracted by the SampleSource] research that tracks purchase intent pre- and post- sample and provides us with tangible data to ensure we are measuring the success of our sampling programs."

In-store sampling, Linden adds, can be difficult to pay out from an ROI standpoint, simply because of the high costs of execution coupled with typically low product price.

"Some brands would need to see increases in the thousands of percentage points to pay out an in-store program." This is more effective for high dollar-ring items like electronics or food or drink, which can be experienced on the spot and drive immediate buying impulse, Linden says.

And with samples being shipped to the home, there's a better chance consumers will use them. "Consumers are not just shoppers in the aisle," he says. "They are also shoppers before the aisle. Imagine if we could drive their intent prior to getting to the store so they make a beeline right for the offering."

The platform can also be white-labelled for clients, or for entire companies for their own multi-brand service across their portfolio, including their own branded sites and packaging.

The U.S. version of the site will be launching soon, with a second Canadian trial coming in April 2012.