Retail on the couch: Collaborative marketing strategies along the new path to purchase
Brands must engage consumers online and arm them with as much information as they can.
By Corrine Sandler
Historically, path to purchase was almost entirely orchestrated and controlled by the retailer. The seller decided where, when and how shoppers would be engaged by the brand and what information they should know about the product. It's a different world today.
Online retail spending accounts for 8% of all retail sales, according a 2011 Path to Purchase Institute industry report, but that tells only a small piece of the story as online is also influencing in-store decisions. In fact, Google launched ZMOT (Zero Moment of Truth) in June, a new path to purchase decision model featured in an ebook by Google's US managing director for the central region, Jim Lecinski.
Zero Moment of Truth occurs when a shopper goes online to actively seek information about a product or service before making a purchase decision. This is a marketing moment, an informative moment that can determine the success or failure for countless brands around the world, and retailers and manufacturers have no say in the matter.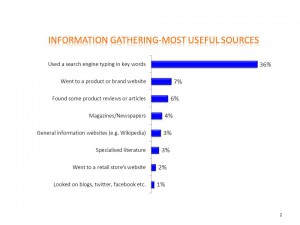 Understanding the human brain and the way we process information along the path to purchase can help marketers understand how a consideration turns into a purchase. A recent Fresh Intelligence study conducted for a leading CPG brand revealed that when consumers gather information before going to a store, almost half of them look online.  When determining what information sources are considered most useful, the two leading responses were "used a search engine typing in key words" and "went to a product or brand website."
One of the major trends this holiday season will be the use of digital advertising to drive online consumers into offline stores.  The resulting holiday digital tactics will go well beyond email campaigns and paid searches.  Early forecasts have shown that despite economic conditions that might bring out the inner Scrooge in many shoppers, retail sales will actually grow 2.8% this holiday season.[1] While that number is encouraging, it's down from last year's 5.2% gain. Competition for wallet share will be fierce and retailers will be pulling out all the stops to get people in their stores for that perfect gift – and perhaps a few impulse purchases while they are there.
Take Google's latest retail offering, Circulars, an online version of the shiny inserts found in the Sunday paper. Circulars are designed to encourage digital consumers to shop at the retailer's online and offline stores by hooking customers up with deals that can be found in the stores nearest to their location.
Not to be outdone, retail behemoth Walmart made headlines earlier this year when it announced the launch of a Facebook app that customizes marketing messages for each of its nearly 3,600 US stores, creating a more personal connection with its shoppers and fans by offering tailored communications about local deals, events and limited-distribution products.
As technology changes the way shoppers gather information and make purchase decisions, the fundamentals will not. Shoppers want to be more informed, make better decisions and save money. By engaging with them in the beginning of the process and following them all the way through their experience, brands have the potential to be seen as an ally rather than a manipulator. The way to do this: help consumers discover that your product makes sense for their wants and needs.
Consumers may have indeed taken the wheel on the path to purchase, but successful brands will arm consumers with a good set of directions.
Corrine Sandler is the founder and CEO of Fresh Intelligence Research Corp., focused on uncovering insights through unique quantitative and qualitative market research approaches. http://freshintelligence.com, info@freshintelligence.com
---
[1] According to the National Retail Federation. The NRF uses a complex economic model that includes data from across the US and world economies to predict how much holiday shoppers are likely to spend in 61 days from the beginning of November to the end of December.