Canadians should brace themselves for a gaming revolution. A coupon gaming revolution, that is.
With the mass-market penetration of smartphones (45% Canadians have one, according to comScore), retailers have been looking for new ways of leveraging the technology to reach customers.
In May, U.S. start-up Kiip, run by Canadian-born Brian Wong, will enter the Canadian market, partnering with a number of Canadian retailers and manufacturers (which he's keeping mum about until the platform launches). The program can be built into any game, rewarding customers with real-life promotions and discounts at nearby businesses. In other words, players of Angry Birds could conceivably win a free Starbucks drinks when they reach certain levels in the game.
The idea behind the technology is to reward people when they are happiest, right after they've achieved something, says Wong. The platform is a non-interruptive way to reach mobile audiences, he adds, something that traditional mobile advertising, such as banner ads, can't achieve.
"We're an enhancement layer," he says. "We've figured out a way of bringing the brand into the game at a natural pause, and when someone is really happy. Being able to give back and give a virtual high five is something brands have always wanted to do."
The back end is completely customizable to the retailers or manufacturers, and can send out coupons and rewards based on location, time of day and even weather patterns, giving businesses the opportunity to offer hot drinks in the cold winter months or cool treats for the summer heat.
The results out of the U.S. have been phenomenal, he says, where Kiip is working with the likes of Pepsico, Sears and Best Buy. The average click-through rates are 8 to 10%, adds Wong, and in the U.S., 140 apps are integrated with Kiip, with a total viewership of approximately 28 million, and an active monthly reach of seven million. Wong predicts approximately one to two million active users in Canada.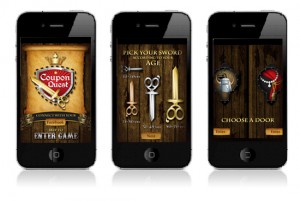 Toronto-based start-up Coupon Quest took the idea of coupon gamification a step further and created a game around the idea of coupon hunting.
"With popular shows like TLC's Extreme Couponing, saving money and hunting for good coupons in the newspapers and blogs has become a game itself," says Ian Tuason, founder and CMO, Coupon Quest. "[Plus] I'm addicted to casual videogames [so] I wanted to make the time more productive."
The game sources daily deals from online aggregator Yipit, which pulls in deals from sites like Groupon, LivingSocial and Tippr, he says.
The game itself is a role-playing treasure hunt in a medieval setting. As players collect coupons – which don't have to be redeemed – they receive points and can "level up" to knight or ranger status from rogue. The game has also integrated Kiip into the game, so as U.S.-based players (and soon to be Canadian players) receive points and avoid point-stealing evils such as dragons, they can earn free stuff, such as Best Buy vouchers or free drinks at Starbucks, says Tuason.