Scotiabank shares the wealth
The bank has launched a social media site aimed at sharing life's non-monetary rewards.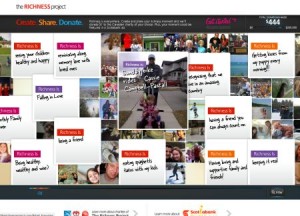 Though Scotiabank deals in dollars and cents on a daily basis, it is hoping to spread the non-monetary moments of joy Canadians experience with the launch of a new site, TheRichnessProject.com.
Launched as an extension of its new "Richness is" campaign, which explores everyday moments in the lives of Canadians, the site will be promoted through word of mouth and social media, says Duncan Hannay, senior VP, head of marketing, Scotiabank.
The bank worked with Bensimon Byrne on the site, which contributes $1 to one of 18 charities based on the consumer's choice when they share a moment of richness through a video or photo.
Hannay says selected content on the site will be used in the brand's upcoming summer campaign, and the site will be kept live for a few years with the goal of raising at least a couple hundred thousand dollars for charity.
"The interesting twist is that as more Canadians participate, and as we procure more content, we will potentially use that content in our advertising," he says. "So it is quite conceivable that your photo or video could find its way into our advertising."