Going glam at 75
Through decades of often-turbulent times, Air Canada has built an iconic Canadian brand. Now it's attempting to bring a bit of glamour back to the skies.
For some, there is still something exciting about air travel. Just ask any child who visits an airplane cockpit for the first time, or any long-distance couple reunited thanks to a quick trip in the sky. And while flying has lost some of its sheen and is no longer an occasion to get gussied up (Lululemon gear or sweats are now the preferred uniform of the traveller), it's difficult not to get nostalgic for the days of jet-setting glamour as the country's largest airline celebrates its 75th birthday.
So the fact that Air Canada's latest campaign, featuring stylish young people clad in fashionable outfits, evokes feelings of flying in a bygone era is no accident.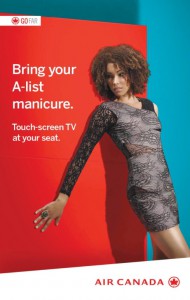 "We wanted to indirectly wink at a statement I hear all the time, that there's no glamour left in travel," says Craig Landry, VP marketing at Air Canada. "Our objectives have to do with humanizing the brand and using style and glamour as a vehicle to reinforce the aspirational nature of travel."
Not an easy feat, especially when dealing with recessions, terrorist concerns, weather-related disasters and labour disputes (a hot-button issue press time).
"That creates challenges to have consistency of delivery in the service, and that can impact the brand," says Landry. "In those exceptional circumstances, our first approach is to think very short-term and think in terms of the customer. So that means changing our booking policies to make sure we waive fees and allow people to have the flexibility they need to adjust their plans. We also try to push out as much communication as we can through a wide variety of channels, so that can be on our website, through our top-tier newsletter, social media channels, and mass channels like radio and newspaper."
Thinking both short-term and long-term when determining how to further evolve one of Canada's most iconic brands, is complex, as the airline is the largest in the country; it carries about 32 million customers a year, has approximately 1,500 flights per day and holds just over 55% of the capacity share (number of seats deployed) in Canada, with 35 to 40% internationally. So it has to appeal to a wide breadth of consumer segments, from business travellers to family vacationers, from luxury-seekers to the cost-conscious.
Covering all the bases falls to a team of 45 across seven marketing departments, including marketing communications; product design and brand management; loyalty marketing; analytics and CRM; partnerships and business development; new product development; and product specs and delivery. The teams work with about 80 people from various agencies – Marketel for brand and mass media activities (which has been the airline's AOR for 23 years), Draftfcb for loyalty and direct marketing initiatives (Air Canada also works with Aeroplan on loyalty initiatives), Twist Image for social media, World Media in the U.S. for online and Hamazaki Wong in Vancouver for multicultural communications.
Throw in a highly competitive landscape with national and international airlines fighting for travellers' dollars (Air Canada advertises in 20 countries) and it becomes clear that the marketing department has, out of necessity, become a well-oiled machine.
Although Air Canada is 75 years old, its marketing history really kicked into gear over the last three decades. Born a government-controlled operation in the 1930s, the airline didn't privatize until 1988, and as competition began to ramp up in the '80s, so did marketing efforts.
"Obviously once you're a private company you have a tendency to step up some of your marketing activity," says Landry. "I think marketing started to get more sophisticated in the '80s, it's when you start to see the airline differentiate a bit more between business and leisure."
With the tagline "World Class, World Wide," TV spots from the mid-'80s featured happy, relaxed passengers being served by affable flight attendants, showing off the comfort and features of flying with the airline.
After Air Canada further expanded its international network in the late '80s/early '90s, it came out with a campaign in 1993 that Landry notes was one of its most recognizable and successful to date. A significant departure from the typical shots of airplane interiors and flight attendants, this campaign only featured one quick shot of a plane at the end, and instead showed people of different cultures in different parts of the world, set to the Beatles song "Hello, Goodbye."
The next decade would prove to be the toughest in Air Canada's history. In 1999, it merged with its main competitor, Canadian Airlines, but that wouldn't eradicate the competition, with WestJet gaining momentum after entering the market in 1996.
Around the time of the terrorist attacks of Sept. 11, 2001, Air Canada found itself drowning in billions of dollars' worth of debt, and in 2003, it filed for bankruptcy protection. It emerged from it the following year, and in October 2004, embarked on a campaign to re-energize the brand.
A restructuring plan was put in place that included a substantial product investment, such as new lie-flat suites in business class and new in-flight entertainment systems. Air Canada's look was also updated, right down to the crew's uniforms, which went from dark green to the now-signature blue. To communicate all this with a big splash, the brand tapped another Canadian icon with global reach.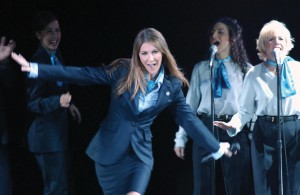 Celine Dion's celebrity power lit up the 2004 rebrand with a song that was written for the campaign called "You and I," which was released as a single and featured on Dion's album, A New Day… Live in Las Vegas. TV spots featured the song, and Dion's music video for the single was shot at Toronto's Pearson International Airport and included shots of Air Canada planes, as well as the songstress in a hangar and on a runway with a jet flying overhead.
The connection between Air Canada and Celine Dion has to do with Canada succeeding on the world stage," explains Landry. "Celine Dion is a wonderful example of a Canadian that has become an international superstar. As we were expanding our international network, we felt Air Canada wanted to be amongst the best in the world."
Landry notes that following the campaign, passenger revenue grew over 6% in 2005 and 2006. "It is hard to say how much of that was related to the campaign, but we feel it was a very important and successful part of the company's strategy at the time."
The airline later launched several initiatives that specifically highlighted improvements in products and services. The "Revolution" campaign of 2006 introduced the multi-trip passes program, and 2009's "More at your Fingertips" featured people drawing in the air with fingerpaint to highlight advances to the in-flight entertainment system.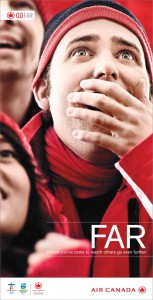 But arguably the most notable effort since Dion's hangar performance has been Air Canada's sponsorship of the Olympics, especially the Vancouver 2010 Games. Its "Go Far" campaign featured real Canadians and told stories of what it meant for travellers, athletes and Olympic fans to "go far." It was filmed along key international routes for Air Canada, including London, Shanghai and Buenos Aires, as well as in Calgary and Banff National Park.
"A similar message to Celine Dion, one of the reasons we love the Olympics at Air Canada is because it's Canadians succeeding on the world stage," says Landry. "And we see that reflecting in our brand values and aspirations."
Work is currently underway on a London 2012 campaign. "We'll also do some great promotions and stuff money can't buy," Landry hints. "We'll be able to help our customers experience some of the Olympic Games."
The new work will no doubt tie in Air Canada's previously-mentioned sophisticated new look, which launched in the fall of 2010. The latest iteration of the new campaign, touting non-stop service to various cities around the world, is hard to miss for those in Toronto, Vancouver or Montreal thanks to a strategic media buy from Marketel. It tailored over 30 variations of the ads to different areas in the cities, for instance, Hong Kong ads in Chinatown and New York or LA ads in entertainment districts.
Nancy Lee Jobin, VP client services at Marketel, says that despite being such a big brand, Air Canada has been open to change.
"Everybody was open to looking at the brand differently," she says. "Typically airlines like to show their mettle – the plane, the seats, the in-flight entertainment – but there are hundreds of airlines around the world, if you don't develop your brand personality you're not going to be able to distinguish yourself…So we said, let's focus on the consumer and their experience with travel. We're not in the tourism business. We're not selling the destination, we're selling the experience with the Air Canada product."
Its loyalty program is another way Air Canada plans to stay competitive. It recently announced that for 2013 it will be moving from a three-tier loyalty program to a five-tier one, adding two additional tiers between Elite and Super Elite, because, Landry says, "there's a fairly large gap between those two tiers and sometimes customers can be tempted to sample the competition when they're caught between [them] and we just want to create more reason for customers to continue to drive their loyalty with Air Canada."
Going forward, the airline is making a significant investment in the latest Boeing aircraft, the 787 Dreamliner, with 37 of the new planes coming in 2014. And Landry promises the marketing activity around it will be "quite fun."
"In the 75 years to come, our aspiration is to be known and respected globally as one of the world's very best airlines," he says.
* * *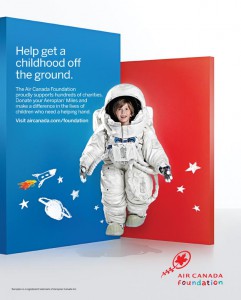 Giving back
In early March of this year, the airline officially launched the Air Canada Foundation, a non-profit organization under which it carries out a number of charitable initiatives, many of which have been around for years, and many benefiting children.
"The creation of the foundation is a natural evolution for our community investment efforts of the past 75 years," says Air Canada spokesperson Peter Fitzpatrick. "Our objective is to raise the profile of the causes we support and create new opportunities for giving."
Initiatives include a transportation program for children with medical needs, offering free flights and Aeroplan miles to hospitals and charities. The airline raises money for travel initiatives through fundraising activities such as "Every Bit Counts," encouraging customers to donate loose change onboard flights and through airport collection containers.
The foundation also supports non-profits such as the Children's Miracle Network and Free the Children, and engages in ongoing efforts to raise awareness about sex tourism and human trafficking.
* * *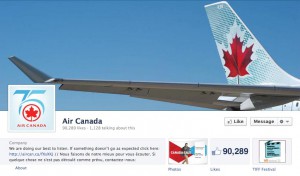 Social lift-off
To say that the media landscape has changed in the last 75 years is a massive understatement – to say that it has changed in the last 10 years is an equally massive understatement. This rapid-fire evolution can arguably be toughest on big brands with higher stakes, more processes in place and more eyes watching how they respond.
On the subject of social media, Craig Landry notes that Air Canada only became active in the space just over a year ago, and when he first came into his role of VP marketing about two years ago (he was previously SVP at Aeroplan), Air Canada didn't even own its own Facebook or Twitter pages, they were occupied by "squatters." Today, it has over 90,000 Facebook fans and more than 70,000 followers across several Twitter pages.
Landry notes that Air Canada didn't want to use social media as just another promotional vehicle, but to truly have a dialogue with its fans and followers. The brand has been quite responsive to both positive and negative comments, and it has been generating social media-only content, like behind-the-scenes stories and contests.
A recent example was a "Love from Afar" contest for Valentine's Day, which asked Facebook fans in long-distance relationships to share their stories. Fans then voted for their favourites by "liking" them, and the winner (whose partner was in Australia) won a free flight to see their sweetheart.
"It was something we put together in 48 hours," says Landry. "It was quite small but the response was huge. If you look at the number of people that become fans of Air Canada on a daily basis, it was close to 10 times the daily rate for the duration of the promotion."
And the airline is looking at other ways it can expand its social media presence. In addition to a YouTube channel and blog called Go Far Stories, it's looking to establish itself on Pinterest and Instagram.
***
History at a glance
1937 The government-owned subsidiary of CNR, known as Trans-Canada Air Lines (TCA), has its inaugural flight.
1949 The government moves the airline headquarters from Winnipeg to Montreal.
1965 Thanks to a private member's bill submitted by Jean Chrétien, the airline's name changes from Trans-Canada Airlines to Air Canada.
1978 Air Canada becomes an independent Crown corporation, ending the government's direct control over its operations.
1987 Pacific Western Airlines purchased Canadian Pacific Air Lines, forming Canadian Airlines, Air Canada's main competition.
1988 Air Canada privatizes.
2001 Air Canada merges with Canadian Airlines.
2003 After amassing billions in debt, Air Canada files for bankruptcy protection.
2004 Air Canada emerges from protection under the new parent company ACE Aviation Holdings. A campaign featuring Celine Dion is launched to revitalize the brand.
2006 Project XM: Extreme Makeover begins. It is a $300 million investment in replacing the interiors of the aircrafts.
2009 President and CEO Montie Brewer is replaced by Calin Rovinescu. That year, Air Canada is the first North American airline to release mobile apps for BlackBerry and Apple devices.
2010 Air Canada launches a new identity campaign, featuring a modern, sleek look.