Kraft brings 'fun' to the aisles
The CPG company introduces a new liquid water-flavour enhancer, MiO, and kicks off its summer Stride campaign.
By Jennifer Horn and Emily Jackson
Kraft is no stranger to on-the-go water enhancers as seen from its collection of female-targeted Crystal Light powdered sachets. But now the brand is turning to a different audience, launching a concentrated liquid mix that goes by the name of MiO and targets men aged 18 to 34 with advertising that campaigns for change.
To introduce the new offering, Kraft launched the product in-store with displays and sampling in select locations. The product will live next to water at the front of the store or in a permanent display in beverage aisles.
With the belief that young adult males embrace change and that they are in search of ways to personalize their purchases, Kraft enlisted Taxi 2 to create a commercial that demonstrates how MiO "changes everything," says Kristi Murl, senior brand manager, Kraft Canada. The 30-second spot shows how each and every squirt of the liquid changes the taste of water, and subsequently, everything else that surrounds it.
"We wanted to bring to life the dramatic effect that MiO has on water by dramatizing change in consumers' lives," says Murl. "Males aren't heavily entrenched in this category and they definitely represent a huge opportunity for us."
Almost half of their beverage consumption is water, she says of the target audience, and as seen in the creative, the new product encourages them to change things up a bit.
"It brings fun to water, which is something [they may have not thought] of doing before," she says. "The product is a great fit for them because it's sleek, portable and fun to use."
In keeping with the "fun" idea, Kraft's Stride Gum recently launched its latest campaign, involving a virtual school called "Stride High," where students are encouraged to have fun with their gum by completing ridiculous video assignments and submitting them online for the chance to win $5,000. In-store promotions, beginning in August, will see floor decals and other promotional material in the gas and grocery sector.
"Stride has always been about being the ridiculously long-lasting gum, but one of the notions that we tend to get back from our consumers is that they love to play with their gum," says Bob Cornwall, senior brand manager, Kraft Canada. "They love to blow bubbles, to stretch it, share it and do fun things with it, so that was the inspiration behind the Stride High campaign."
A commercial for Stride High showing young adults playing with their gum in the most "ridiculous" ways possible is currently airing on The Comedy Network, MuchMusic, MTV Canada, as well as on Stride's Facebook page. Sid Lee's Toronto office took the creative lead on the campaign, while Rocket XL headed up the social media component.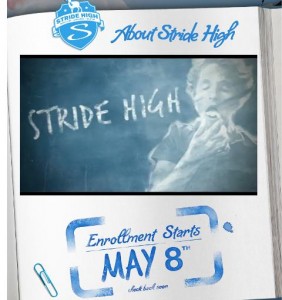 "This is the first time we have talked about the ridiculous and playful value of Stride Gum. The campaign will primarily live online, so our ambition is to bring the experience to our consumer, rather than having them come to us," says Cornwall. He adds that because gum is in a low-impulse category, the brand wanted to connect with young adults in an engaging and meaningful way.

Participants will be able to submit their videos through YouTube or Stridehigh.com.