Koodo broadens El Tabador's horizons
In response to fans wanting to see more of the spokesman, the telco launched an app that has him creating personalized thank you cards.
Who doesn't get a kick out of being doted on by a brand?
Koodo is of the mind that when you get love, you give love back, as evident in its new Facebook app that delivers personalized thank you cards from its spokesman, El Tabador.
The "Grande Gracias" app, which was created by Taxi, opens up with the animated character and a tally of how many consumers have received a thank you from the brand. At press time, the count was at 149,085. The app then taps into the user's account, once permission is granted, and follows up with a video clip of El Tabador producing an autographed thank you card for the viewer.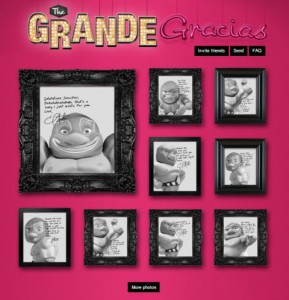 Lise Doucet, VP of marketing, Koodo, says that the brand was looking for ways to bring the spokesman to different screens after receiving requests from consumers asking to see more of him.

She adds, "We have a lot of equity in El Tabador and we're starting to bring him to life in new ways. It's a simple idea that reaches our fans where they already are and rewards them for doing virtually nothing. We're taking brand interactions in the social space to new levels."

Looking to reach the brand's core audience of young adults age 18 to 24, the app will continue to run for up to a year, according to a Koodo spokesperson.