Anomaly wins Mini account
After 10 years on the account, Taxi sells its last Mini after opting not to participate in the procurement process.
New Canadian agency Anomaly has picked up BMW's Mini account, taking over for incumbent Taxi, which served as Mini's AOR for the past decade.
Originally based out of New York, Anomaly has since opened up shops in Amsterdam, London, and as of April 2012, Toronto. Its New York office made waves back in February after staging a faux-NHL style hockey match during a Port Credit, ON. pick-up game.
"We are very excited to begin our new partnership with Anomaly," Adam Shaver, director, Mini Canada, said in a release. "The agency has a terrific vibe, and the creative ideas they brought forward demonstrated a true understanding of the Mini brand. They've proven that they have the talent to bring unique, cheeky, attention-grabbing and Mini-typical campaigns to market as we look forward to further growth in the years to come. At the same time, we are thankful for a great, decade-long partnership with Taxi, who have provided invaluable support over the years and played an important role in establishing the Mini brand in Canada."
The car has just celebrated its 10th anniversary here in Canada, and Taxi has been the AOR since the beginning, with Taxi's office acting as the home to one of Canada's first Minis. In the years that followed, the agency pulled big stunts, such as hanging full-sized Minis off of office buildings, a projected vending machine that passersby could interact with via their phones, and a billboard pointing out common speed traps. The agency has won multiple awards for its work, including a Gold at Cannes and hardware from ADCC, the One Show, Clios and the Obies.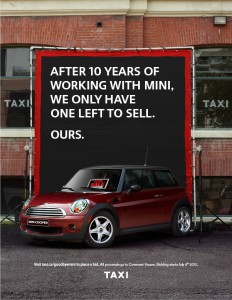 Taxi's CCO Steve Mykolyn confirmed that the agency chose not to participate in the procurement process. To say goodbye to Mini, Taxi has opted to sell its boardroom Mini, donating the proceeds to Covenant House.

"It's one thing to lose an account, but its another to have one last thing to say about it, and that's why we're selling our car," he says. "We thought our 10 years of work stood for itself. We won a lot of awards for it, sold a lot of cars, and built a fairly strong brand here in Canada."

He adds that Mini would generally have engaged in reviews every three years, but hadn't undertaken a review in the past decade. "Pitching after 10 years just didn't make sense to us," he says, stressing the departure was very amicable. "On principle, we wanted our track record on the account to stand for itself."