Future Shop goes back to school
The company has launched a food truck-themed Facebook app, and a tech-forward creative campaign.
Tough to admit, but it's almost August so that means the back-to-school campaigns are beginning to roll out in full force. The latest brand to unveil its campaign is Future Shop, which launched its print and digital spots on Friday, with creative from Cossette and media by Media Experts. TV for the campaign will hit screens in mid-August.
This year's back-to-school campaign is targeted at parents, students who are either buying their own supplies or influencing decisions, and tech-forward consumers looking for deals, says Kushal Samy, senior marketing manager, Future Shop.
"Creative for the rest of the campaign is about being tech-forward, featuring students looking hip and edgy who are in some cases engaging with technology," she says. "We have design elements like three-hole punched paper that aligns with back-to-school."
Samy says the campaign involves a different strategy for its TV buy this summer, going with more specialty shows to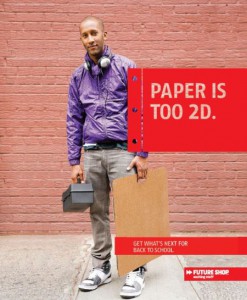 reach the fragmented warmer weather viewers. The company has also added 15-second pre-roll spots to on-demand TV shows, to reach lighter TV watchers, she says.

Future Shop has also bought more rich mobile ads so consumers can fully see the technology the phones in the campaign offer, says Samy.

Also new for the 2012 back-to-school campaign is a Facebook app called "El Trucko." The app, which launched today, uses imagery from the red-hot food truck trend and asks consumers to submit their own "tech-forward" slogans. The top 10 English and French slogans, as voted by Future Shop Facebook fans will win prizes, including Marley headphones and t-shirts with their own slogans on them, says Samy.

"This year's campaign differentiates because we are focusing on engagement, we want consumers to connect with us. We think the movement around being tech-forward will really resonate with consumers."