Rickard's settles in for winter
The Molson Coors brand unveils its second seasonal beer and talks about its big plans for 2013.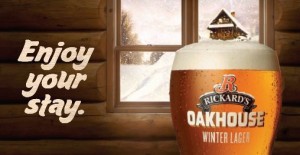 After selling out of its first seasonal beer, Rickard's Cardigan in stores, the Molson Coors brand is back for winter with Rickard's Oakhouse, says Julie Sanchez, senior marketing manager, Rickard's at Molson Coors Canada. The winter beer, which is in market until the end of November is a 100% malt lager aged with toasted oak which releases hints of vanilla, she says.

Promoting in Montreal and Toronto, the season beer will be advertised through downtown OOH billboards and digital ads on The Food Network and Facebook. Sanchez says Facebook is a hub for the brand, with an app where consumers can plug in their location and see where they can find the beer.

Working with  Rethink on creative and MEC on media, the beer is promoting with the winter-friendly tagline "Enjoy your Stay."

Sanchez says the seasonal launches have inspired a rebranding of the original pieces of the Rickard's brand, kicking off a process that will finish with a complete relaunch coming out next spring. This will be coupled with another seasonal launch from Rickard's in summer 2013.