Marketers of the Year: Duncan Fulton retells Sport Chek's story
Forzani's chief marketer takes the brand to a digital frontier.
If there's one thing a career in political PR taught Duncan Fulton, it's that the public constantly judges your brand. This lesson still serves the CMO of Forzani Group Limited (FGL), who spent the early part of his career working for New Brunswick Premier Frank McKenna and Prime Minister Jean Chrétien, before moving into private sector PR, and finally marketing. Lessons learned rallying people around causes and ideas have been instrumental for Fulton over the past year he's spent rebranding FGL's flagship retail chain Sport Chek. "We see a general inability of sporting goods retailers to inspire their customers," says Fulton. "When you inspire someone, you're connecting at a more emotional level than by just completing a transaction with them."
And looking ahead, he plans to turn the Sport Chek retail experience into what he calls "the most digitized retail environment in Canada and maybe North America."
Fulton leads a team of 45 marketers at FGL and also serves as SVP of communications for Canadian Tire, which purchased FGL last spring. The new parent company recently announced plans to make Sport Chek the "super brand" under its umbrella of sporting goods retailers, which includes Atmosphere, Athletes World and Nevada Bob's Golf. And as part of this process, FGL banners like Sport Mart, Athletes World, Hockey Experts and Fitness Source will be either converted to Sport Chek outlets or closed by early next year.
As it stands now, Canadian Tire and Sport Chek occupy the top two positions in the Canadian sporting goods retail category, with competition spread out amid a vast array of higher-end specialty shops that cater to various niches in the market. From that perspective, Fulton's job became about how to take a category-leading brand and strengthen its position further.
"[Sport Chek] was number one from a market share perspective but we found the brand didn't really resonate with consumers," says Vito Piazza, VP and partner at Sid Lee (Sport Chek's AOR) in Toronto. "The first time he called us he said he wanted to redefine the [Sport Chek] brand from A to Z." So after taking over as CMO last year, Fulton devoted a quarter of Sport Chek's total marketing budget to the brand itself, five times what it was previously. That broke from the traditional focus on product-specific marketing and allowed Sport Chek to enter brand image advertising territory. The change appears to be working, as FGL saw a 4.8% increase in same-store sales during the second quarter of 2012.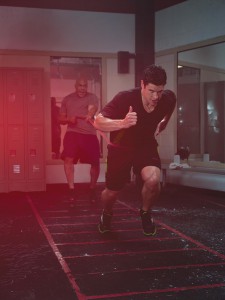 The Sport Chek rebrand kicked off this summer with a campaign called "Your Better Starts Here," building off the idea people participate in sports to either look or feel better. It was FGL's first multi-platform campaign since being acquired by Canadian Tire. The campaign includes a high-profile TV spot featuring hockey star Sidney Crosby and "getting better" as a major theme: it focuses on his intense rehabilitation to overcome career-threatening injuries. The campaign included OOH executions targeting consumers at their gyms and at transit stops close to popular sport venues.

The new strategy includes a heavier emphasis on digital content, as FGL market research showed that 80% of the company's potential customers were under the age of 45 and spending a lot of time online. One example of this shift is the company's signing of popular Blue Jays third baseman Brett Lawrie to a sponsorship deal. Sport Chek immediately pushed out several videos featuring the popular slugger on its YouTube channel, including some where he responds to tweets from random Twitter users.

In addition to the Sport Chek rebrand, Fulton has also beefed up FGL's focus on big data. He is completing an MBA at the University of Western Ontario's Ivey School of Business and his analytics class has reinforced his view on the benefits of drilling into vast amounts of information about customers to better tailor marketing efforts.

He hired what he refers to as "two Moneyballs" (after the popular baseball movie of the same name) to his marketing staff and gave them carte blanche to sift through data collected from consumers to help the marketing team make better decisions about deploying ad dollars. "I think there's sort of an unforgettable experience when new people work with him for the first time," says Piazza. "It feels like you're shifting into another gear."

Fulton says he wants FGL to be at the vanguard of Canadian retailers when it comes to ROI analytics, even if that means a few stumbles along the way. "We have established a test-and-learn culture, and the risk is that if you're not in the right mindset, learning can sometimes look like failure."

Sport Chek and another FGL brand Atmosphere (which specializes in outdoor adventure gear) plan to open almost 100 new stores across Canada over the next three years and many of these will offer a significantly different retail experience than found in existing Sport Chek locations. Sid Lee Architecture will design the new outlets, and Fulton says to expect a lot more screens and in-store digital content. Think digital kiosks that not only display different products but also offer information on sizes and colours available in the store. Digital ads from vendors and Sport Chek itself will feature prominently throughout the new locations. The first flagship digital store opens in early 2013, and will serve as a laboratory to test various digital design experiences within a smaller footprint of about 20,000 square feet. Subsequent urban stores will be larger at around 60,000 to 80,000 square feet.

Fulton says the challenge is to seamlessly integrate the new experience with current digital marketing. He says the majority of customers who walk into a Sport Chek are involved in physical activity, and that the best way to capture that excitement and emotional connection to a particular sport is through striking the right use of video and sound. "Any idiot can buy 300 TVs and put them in a store," he says. "We have to be a destination that excites people."