Youth exchange store loyalty for point dexterity
Students want more than discounts from loyalty programs, with the demo searching for new experiences and alternative currency, according to SPC and Conversion Research's latest report.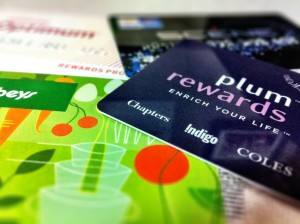 Canadians have proven to be loyal store patrons. They've accrued an average of 6.4 loyalty program cards, the majority (63%) say they'd return to a store with a rewards program and some (35%) would even go as far as to drive past a nearby retailer in order to visit a store that offers points for purchases, according to a 2012 Maritz Canada study.

And based on findings in a newly released report, dubbed the "Pulse of the Canadian student shopper in 2013," from national student loyalty company SPC and research firm Conversion Research, it appears that youth discount-hunters agree. There is "an undeniable change in Millennials" in the loyalty space, states the study, noting that offering hard benefits is no longer sufficient when it comes to this demographic. They're looking for more than just discounts on products, with 33% saying they want stores to offer experiences in return for their repeat business. Indigo Plum Rewards, for example, has demonstrated its program can extend beyond just points, offering member-only contests with giveaways that include tickets to movie premieres, museum exhibitions, concerts and even beauty makeovers. This echoes a similar study by Colloquy last year, which found Canadian consumers (of all ages) were unhappy with just receiving discounts, with many seeking deeper engagement with brands.

The SPC/Conversion Research study found that loyalty programs should also creatively expand upon reward offerings by giving shoppers "more dexterity with their points." For instance, allow members to convert loyalty currency into credits that help pay off debt, such as a student loan, or a monthly obligation, such as a cell phone bill.

Student shoppers want more value, and they want it fast – 60% of the study respondents agree that "the problem with most loyalty programs is that they aren't very good at providing benefits of rewards quickly enough." A demographic longing for instant gratification, student shoppers want "more frequent rewards at a lower value" (for example "nano-points") in exchange for simple tasks they're comfortable doing, such as downloading apps, checking-in and writing reviews.

According to the report, they're also interested in giving up their time in return for points. Around 41% of the study respondents say they would consider volunteering to a cause in exchange for loyalty program rewards and another 34% showed an interest in referring their friends to a store in exchange for points. Sixty-four percent say they would be inclined to write reviews or comment online in return for rewards.

They also like the idea of pooling points with loved ones in order to claim on bigger rewards and steeper discounts (59%) and they want programs that provide them with a way to connect with their social media cohort (44%). Citibank tried both with its rewards program, inviting members to pool their points with friends on Facebook to be used toward a shared goal, such as making a charitable donation or redeeming a joint gift from Citibank.

Though 79% of the 1,440-person study base (between the ages of 14 and 24) say they're enrolled in at least one private loyalty program, 34% hardly ever redeem their points and 36% accumulate for up to a year before cashing in. High collection rates coupled with low redemption is a plus for retailers, but the report warns that creating "a legion of zombies without a mission or a preference" is not the ideal approach. This could, in turn, create an increasingly detached and potentially cynical base of loyalty program members, states the report.

The report also advises that brands need to become digitally-savvy, making themselves more visible and available to their youth membership in the mobile space where they habitually spend their time. Starbucks is a brand that's tied its loyalty program to a mobile app, with its Rewards program allowing members to scan their smartphones in order to gain points when making purchases. Around 44% say they'd be keen to access a loyalty program via an app on their smartphone, and a third showed interest in scrapping physical loyalty cards altogether, opting to only use their phones when collecting points and receiving discounts.