Shopper Innovation Awards: Loyalty
James Ready picks up two Golds for building a loyal fan following, while Air Miles wins Bronze for its "Check-in Challenge."
GOLD
James Ready rewards the awesome
Between 2010 and 2011, the gap between discount and mainstream beers was thinning, as the minimum price increased and big brands were offering more deals, more often. The changing landscape eroded the price advantage that James Ready historically enjoyed, and the brand was at risk of losing drinkers.
The objective for agency Leo Burnett was to protect brand erosion by building a connection with JR drinkers, and the challenge was to do it with a limited budget using James Ready-owned assets.
To bring attention to its fans' affinity, James Ready introduced a Facebook-first – the James Ready Awesome Awards – which included categories such as the "Awesomest Tattoo," "Awesomest Furniture Made of 2-4s," and "Awesomest James Ready song."
Fans posted hundreds of entries on its Facebook wall, and the brand invited them to see the nominees and winners revealed in a four-part, near-live award ceremony hosted on the social site. Before the show, fans posted comments sharing their award show outfits and made winner predictions. By watching the show live, people could win prizes such as a "five-of-a-kind" t-shirt, an industrial-grade hot dog roller and even have pizzas delivered to their front door. In the end, the brand shipped 17 solid gold Awesome Award trophies to its most loyal and vocal fans.
The campaign received hundreds of picture and video submissions and the brand saw a 365% jump in page views as well as a 107% increase in people talking about the page.
Credits:
Client: James Ready
Agency: Leo Burnett
CEO/CCO: Judy John
CD: Lisa Greenberg
Creative group heads: Anthony Chelvanathan, Steve Persico
AD: Mike Morelli
CW: Marty Hoefkes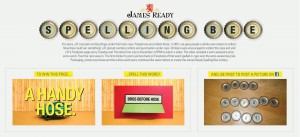 GOLD
James Ready spells out fan following
Over the years, James Ready has surprised drinkers with up to 600 items and messages (such as board game pieces or fun ways to save money) underneath its beer bottle caps. Not only did the caps generate big buzz, but they also provided James Ready advocates with genuine collector pieces.
Working with Leo Burnett, the brand launched a campaign in June 2011 with an in-case newsletter, messages behind bottle labels and a Facebook post that introduced the James Ready Spelling Bee Lottery. Each new cap featured a letter, number or form of punctuation. Drinkers were encouraged to save the game pieces and then visit the James Ready Facebook page at a specific date and time.
On July 26, James Ready posted a video featuring a word and prize. The first person to post a picture of the word spelled out with their collected beer caps won. The promotion ran until mid-December, with a total of 44 video posts.
Fan following grew by 24% despite having no paid media support, the page generated a Facebook engagement score of 19% in the first month, and people returned an average of 21 times to engage with the content.
Credits:
Client: James Ready
Agency: Leo Burnett
CEO/CCO: Judy John
CD: Lisa Greenberg
AD: Anthony Chelvanathan
CW: Steve Persico
Group account director: Natasha Dagenais
Account executive: Rebecca Simon
BRONZE
Air Miles gamifies loyalty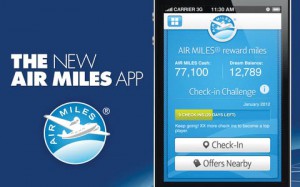 The Air Miles Reward Program redesigned its iPhone and Android mobile app to include a "Check-in Challenge" feature that ranked members according to how often they checked-in at partner locations, with the top collectors awarded bonus Air Miles points. The app provides collectors with a convenient way to earn reward miles, as well as browse its more than 1,200 Air Miles partners.

More than 94% of existing iPhone app users upgraded to the new one within the first month of its launch, and the integration of the "Check-in Challenge" feature increased engagement by over 1,500% in the first few weeks.

A campaign announcing the new app for launched in February 2012 and was picked up by more than 50 media outlets, generating up to 60 million impressions. It was also named the number one Lifestyle app and one of the Top 25 Free Apps in the iPhone and Android app stores.

Credits:
Client: LoyaltyOne
Agency: Plastic Mobile
Associate director and strategy leader: Erin Waldie
CEO: Sep Seyedi
President: Melody Adhami
CD: Jason Hyde