Shopper Innovation Awards: Path-to-purchase
Doritos gets Jacked for the Gold and Fruite teams up with an animated movie to win Bronze.
GOLD
Doritos gets Jacked
Doritos Jacked chips are 40% bigger, bolder and thicker than regular Doritos. So PepsiCo amped up the product's introduction, by orchestrating a hijacking launch concept using an "alternate reality game" created by Capital C that essentially blurred the online and real world together. Even though the game was fictional, it had real consequences.
The Doritos Jacked story's antagonist, the Micro Munchers Association of Canada (MMAC), was a mysterious group whose sole purpose was to promote and celebrate "micro foods." The conflict between the chip and association started in April when Doritos Jacked accidentally launched on the inaugural Micro Muncher Appreciation Day.
In retaliation, the Doritos Jacked Facebook page was taken over by the fictional association, with a video showing a Mini Cooper Countryman hijacked with the Jacked chips inside. There was a list of demands for the Doritos community to meet, such as playing online games, in order to earn enough "Compassion Points" that would help release bags of Jacked and clues to the Mini Cooper's location.
In the second week of the campaign, the MMAC rewarded Doritos fans by setting up a giant projection screen for them to play multi-player games, as well as giving away 300 bags of Jacked Doritos and 250 t-shirts. The association gave the remaining Jacked bags to a handful of "hardcore" fans at campuses across the country. They were then challenged to distribute the product samples in a creative way that reflected its bigger, bolder and thicker attributes.
After three weeks of demands, the MMAC released the final clue to the Mini Cooper's location. One fan cracked the code using Google Maps, discovering an image of the car hidden on the streets of Tiny, Ontario – the Micro Munchers' hometown – and taking home the keys as a reward.
Doritos' approach paid off, with over 75% of the Doritos community aware of the new product as well as a Facebook following increase of 30,000 fans. Over 40,000 consumers engaged with the Facebook app, for an average of 8.5 minutes, and the brand's sales increased dramatically within the first five weeks.
Credits:
Client: Frito Lay Canada
Creative agency: Capital C
Media agency: OMD
Experiential marketing agency: Redwood Strategic
Creative planner: Bennett Klein
Senior AD: Donovan Bond
CW: Rick Ames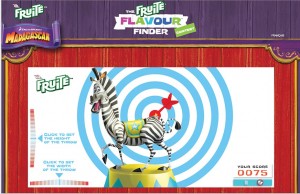 BRONZE

Fruité gets animated with Dreamworks

Fruité wanted to build on its licensing deal with Dreamworks by leveraging the studio's Madagascar 3 movie launch. So the brand created hype around a new consumer-chosen flavour and established Fruité as an exciting brand within the Lassonde portfolio.

To capitalize on the pre-launch period of the film, Fruité worked with Draftfcb to build a contest that invited customers to vote for their favourite Madagascar 3-inspired flavour, which launched during the summer.

Customers could vote through Facebook or on a microsite where they could also interact with the brand through games and enter to win prizes, with a trip to New York City to help with the film premiere up for grabs.

The campaign saw more than 50,000 votes during the promotional period, around 38,000 codes were submitted for instant prizes, and 32.5% of visitors to the microsite played the online games.

Credits:
Client: Lassonde Beverages Canada
Agency: Draftfcb
CD: Anne-Marie Blouin
AD: Catherine Blair-Timothy