Shopper Marketing Forum: The future of retail
A recap of the sessions at the Toronto conference, which addressed the fragmentation of retail channels, the new "shopper economy" and the divide between retailers and manufacturers.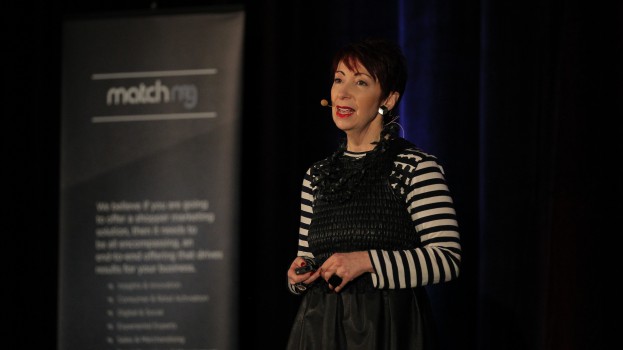 Follow shoppers to discover the future of retail
Wendy Liebmann (pictured), CEO and chief shopper at WSL Strategic Retail, kicked off the second annual Shopper Marketing Forum at the Hilton in Toronto yesterday, highlighting the need for brands to communicate value at every touchpoint and through every marketing message.
The New York-based consultant walked the audience through ome key differences between the American and Canadian markets (namely in our adoption of coupons and digital versus our neighbours to the south), and what that means in the face of the onslaught of U.S. retailers invading the north.
While Canadians are a cost-conscious bunch, price is not our key driver, she notes. Rather, nearly 60% of Canadians want to know what they're buying is a smart purchase. She points to Nestle's Nespresso, which successfully sold its coffee machine during the height of the recession on the idea that it could save both time and money (by preventing people from spending $5 a day at the coffee shop).
She also highlighted the continuing fragmentation of channels, driving to the fact that big data allows companies to truly target different types of customers (e.g. moms versus single 30-something females), or risk losing audiences to the different retail channels.
"The key is that nothing goes away. [Consumers] will keep doing it all," she says of the fragmented shopping habits. That means that people won't stop visiting the department store in favour of shopping on Amazon. Rather, they'll do both, giving out smaller slices of share.
Her five takeaways for the audience included: recognize the new competitive set (and channel fragmentation); reinforce value at every consumer touchpoint; give people more reason to come into stores every day because the shopper will otherwise default to the lowest price point at a store they know; fight against commoditization (i.e. brands still need to deliver the best product); and build a stronger emotional connection to help fight the competing demands on consumers' time and wallets. Her overarching theme was that brands need to move beyond price when talking about creating value for customers.
Following Liebmann's presentation, Sandra Sanderson and Deon Alhadeff walked the audience through the creation and implementation of Shoppers Drug Mart's 50th anniversary program, while Caroline Winnett, CMO of NeuroFocus highlighted some fundamental differences between the male and female brain.
The afternoon session with Josh Cormie, VP at Fresh Intelligence Research, asked "What shoppers really want" by way of a live focus group. While the Liebmann emphasized the need for value, Cormie's session served as a reminder to the audience that price is still at the forefront of Canadian's minds. For example,.
Cormie questioned the panelists on why they resorted to online and crossing the border, with their answers pointing to a desire for retailers to provide them with more personal customer interaction and product education, as well as competitive prices. For example, single urban dweller Paul says he's strongly influenced by store staffers and personal engagement. Being a tech enthusiast, he prefers when sales associates take the time to walk him through and educate him on products to make him feel he has made the right decision. Anne, an OCAD professor and self-admitted serial shopper, says some retailers in Canada do not "respect her fiscally" and "even though I want to wave the Canadian flag, I also want the brand to respect me" by providing competitive pricing and better overall shopping experiences, compared to their U.S. counterparts.
The Shopper Economy
On day two, the first two keynote speakers, Liz Crawford, VP strategy and insight, Match Shoplab, and Alison Chaltas, EVP shopper and retail, GFK, continued this theme of taking value beyond the price of the product.
Crawford kicked things off by highlighting the new "shopper economy." She says while many marketers still live in the "goods for currency" mindset, shoppers are moving towards a "labour for value" exchange. To translate, it's not only about getting a good or service for the cheapest price, brands have to create an experience for shoppers in exchange for their attention, participation or action. With the information-overload world we live in, attention is scarce, Crawford says, which makes it a valuable commodity. But in order to keep a customer's attention (which can lead to participation or action, such as purchase or social engagement), companies need to offer something beyond the product.
She says brands are starting to get innovative, pointing to Citibank as a great example. The American bank offered Farmville players on Facebook a virtual statue to be placed in the middle of the farm. This acted as both free advertisement and social endorsement for the brand, and benefited the player as it virtually "boosted" their crops five-fold. Fundamentally, people are starting to realize their attention and participation in a brand is worth something, and they're demanding to be rewarded. As technology continues to advance, it'll be possible for brands to create a value exchange in a frictionless and fun way. Finally, she implored the audience to start thinking about the value from the eyes of the consumer by asking themselves - what is your promotion or campaign worth to them, rather than to you?
Following Crawford, Chaltas looked at the "smart shopper," highlighting how technology has changed shopper behaviour and that brands need to keep up. Companies need to make it easier for people to buy their product in a different range of ways (in-store pick-up for online ordering, for example, such as what Future Shop has in place with its "Reserve and Pick up" service), while the need for transparency continues to grow (be upfront with recalls). Brands should also romance the customers, she says, pointing to Lululemon and Shoppers Drug Mart, which create enticing brand stories to drive in-store traffic.
Finally, people want less choice and respond better to a decluttered environment. But while smaller product offerings can be daunting for many brands or retailers, she says that companies can get innovative around the idea. Walmart's shopping app for example, allows people to enter their desired budget, and as they check off items on their list, the app will "cut them off" once they've hit their set limit. While some argue this limits sales, Chaltas says it's a smart move to help the cost-conscious shopper stay on target, which helps build Walmart's brand halo.
The retailer-manufacturer divide
In the afternoon of day two, Tony Chapman, partner and CEO at Capital C, moderated a session called "Driving collaboration: Exploring the retailer/manufacturer divide." The panel included Wes Brown, senior director of national event and shopper marketing with Loblaw Companies Limited; Nola Martin, senior marketing director of customer insight and shopper marketing with Maple Leaf Consumer Foods; and James Fraser from Hunter Straker.
"I think what happens is retailers are looking for the manufacturers to come in and say we have the ultimate category story," Fraser said, laying out what he sees as the divide between the two sides. "But the reality is they are saying 'we don't really give a crap about your brand.'"
"In my opinion, their point of view is 'tell me what your brand is doing for my category.'"
Fraser gave Walmart as an example of a company that will give a little – in the form of end cap shelf space – in exchange for some exclusivity from a manufacturer.
Brown noted that Loblaw is always on the lookout for companies that bring ideas that will make their company unique.
"We would love to have those conversations (about exclusive end cap space) but we know it puts folks like Maple Leaf in the dog house when we are doing something exclusive at Loblaws and everyone else is saying, what are you doing for me then?
In the other afternoon session, Keith Anderson, VP and senior analyst at Massachusetts-based RNG Digital, and Brian Priest, SVP creative services with Chicago-based Upshot, gave their visions for bricks and mortar stores in 2020.
They focused on three target groups shopping for three products – millennials for food, boomers for electronics and hispanics for beauty products – and how a store of the future would be designed to best serve them.
The speakers capped off with Frank Scorpiniti discussing the rebranding of Rexall, which was executed by Joe Jackman and his company Jackman Reinvention. For an exclusive interview on the subject, click here.
The conference concluded with the inaugural Shopper Innovation Awards. Click here to read about all the winners.
By Megan Haynes, Jennifer Horn and Matt Chung