The risks of over-complicated loyalty programs
As loyalty cards proliferate and new digital players emerge, brands risk alienating consumers fed up with the increasingly complex rewards space.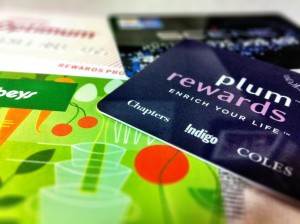 Paul Tedesco, VP at RAPP, DDB's CRM and digital marketing arm, estimates he's signed up for at least 30 loyalty programs, but chalks that up to market research. He figures he's got 10 programs he actually wants to participate in, but only five cards he'll pull out of his wallet.

"There are five that I don't pay any attention to whatsoever," he says. "They've made it too hard for me to participate in the program."

He's not alone in this. One Colloquy study found that Canadians carry, on average, eight loyalty cards at any given time, a drop from nine in 2008. This is despite a boom in new programs in that same time frame, including Indigo's Plum Rewards, Target's Red Card and Loblaw's PC Plus.

So why the decline? One explanation is that programs are becoming too complicated, says Jeff Berry, senior director of knowledge development at LoyaltyOne, which owns Colloquy. It's a trend they've noticed globally, he says, and not one that's likely to abate anytime soon.

For one thing, the market has become saturated. In the past few years, a number of retailers and brands have introduced new cards to the market while third-party app developers have seized on the opportunity to connect brands and consumers with apps such as Freshpoints, which rewards consumers for writing product reviews, and Checkout 51, which gives consumers discounts for taking photos of their receipts. Loyalty programs have new ways to reward consumers as well, such as Shoppers Drug Mart's program, which gave points for playing a virtual game and connecting over Facebook.

But more than that, loyalty programs have moved away from simple "buy a product, get points" transactions.

Now, it's: download the app, play the game, receive points, send us your email, enter a code to redeem the points. Or, go online to fill out a survey, answer five pages of personal and shopping-trip related questions, go back in store to redeem your points.

"Loyalty at the end of the day is all about data," says Manu Sarna, general manager, retail at Aeroplan. "It's tempting for some companies to just want to get more."

He says companies are looking for ways to increase personalization and tailored communication – promotions and coupons specifically geared at the individual shopper. But to personalize, brands need three things: a compelling currency, valid email address and some information about the consumer. For many new entrants into the loyalty space, these complicated programs are a way to catch up. "A good program will encourage you to share that information over time. A bad program will force you to share that info [through complex information grabs]," Sarna says.

Most brands over-estimate the value of the end reward and under-estimate the cost (read: time) to consumers up front, Tedesco says.

Also, for brands such as Shoppers, which has slowly amassed a wealth of consumer data and now layers in personalized offers on top of its mainstream program, keeping track of all the various incentives can be confusing for the consumer and potentially frustrating at checkout when they're unable to redeem multiple offers.

Consumer technology has driven things forward while simultaneously complicating matters, Berry adds. Geo-locating smartphones are, in theory, capable of sending out personalized promotions, but are still a ways off, NFC hasn't reached Canadian markets, and retailers' POS systems don't necessarily work with mobile barcodes or promotions, which results in a mish-mash of programs and ways of connecting with consumers.

However, with mobile wallets, NFC and more sophisticated geo-locating apps on the horizon, Tedesco says, "We're catching up quick."
But for those unwilling to wait for tech to catch up, Berry points to Starbucks' reward program as the ideal. It works the same across the cards or mobile app, linking credit cards to Starbucks Rewards, eliminating the need to carry money to stores. Purchases lead to rewards, which are tiered. The most basic level is a single birthday coffee for a single purchase, while at the top tier (which only requires 12 purchases), the 12th coffee is free. Users can choose to opt-in for more ways to get personalized coupons and offers either over email, text or through the app. No printed coupons necessary.