Best comeback brand: Calgary's recovery
In the wake of this summer's flood, tourism to the city didn't just survive, it thrived, thanks to a fast-acting marketing plan, some cheeky taglines and an ultra-likeable mayor.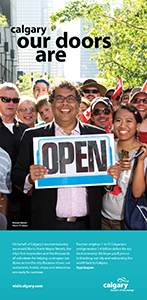 The entire country felt the shock back in June when southern Alberta was struck by a set of wicked rain storms, leaving much of the city underwater, with about 100,000 people forced to evacuate.

You'd think tourism would take a major hit, given that the flood happened right before Calgary's biggest crowd-drawing event, the Calgary Stampede. After all, more than 100 tourism operators were closed (including downtown hotels) during the flooding, and new bookings to Calgary dropped 30% on Expedia.

But not only did tourism in the city survive, it thrived, thanks to a fast-acting marketing plan, some cheeky taglines and an ultra-likeable mayor.

"It's cliché, but you find out the quality of your mettle when under stress," says Gisele Danis, VP, marketing and communications, Tourism Calgary. "Working throughout the June flood obviously created a number of challenges, not the least of which was the fact that our building was flooded and we were without access to email or our server for days. Every challenge was met head on and solved with resolve, teamwork and help from our partners."

Tourism Calgary and its agency Venture Communications created a campaign in just five days and launched it on July 4, the day the city lifted its state of emergency. The "Calgary, Our Doors are Open" campaign featured locals showing off "Open" signs and ended with a message from the city's mayor, Naheed Nenshi. The two versions of the video (a longer and shorter one) have been viewed more than 300,000 times.

The campaign, with media buys in Toronto, Vancouver, Saskatoon, Regina and Edmonton, included radio, print ads and digital on the sites for the Calgary Sun and Calgary Herald, as well as social media by Village&Co.

Although for a while the fate of the Calgary Stampede was uncertain, the show went on, and even leveraged the flood as a marketing tactic. The expression "Hell or High Water," which started on social media, became an official T-shirt slogan, with proceeds going to the Canadian Red Cross Alberta Floods fund. There was even a song written as a collaboration between a number of performers from this year's TransAlta Grandstand Show.

Although Stampede attendance didn't beat last year's record-breaking centennial celebration of 1.4 million, it was still attended by an impressive 1.1 million people, and $2.1 million was raised for the Red Cross.

And despite the floods, Calgary hotel occupancy rates in July actually increased 0.7% from the year prior.