Sobeys gets in the shopping-app game
The grocer is the latest chain to introduce an app that puts it loyalty card on a digital platform, as part of its overall repositioning push.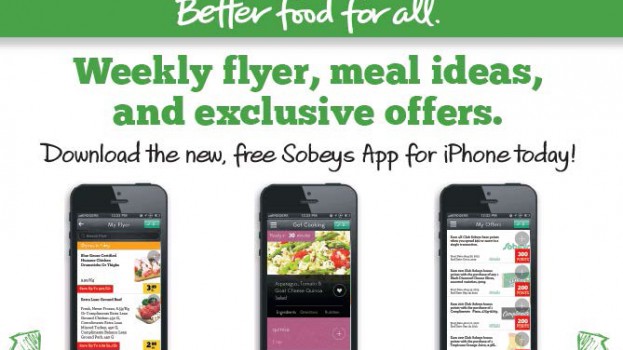 Sobeys has launched a mobile application that provides customized deals to loyalty members while offering meal-planning assistance and access to a weekly flyer to other consumers who download it.
The grocer soft-launched the app in September and is set to raise awareness with a five-week PR and digital media campaign this month. The platform, designed in-house in partnership with The Working Group, is tied to the grocer's Club Sobeys loyalty program (except in Atlantic Canada, where Sobeys partners with Air Miles), pushing offers to customers that are relevant to how they usually shop. It also includes a store locator, a featured product and a recipe of the week.
It can be accessed on any device, using a universal customer log-in, making it possible for a shopper to prepare a list on their desktop at home and then access that same platform at a store, ticking items off their list as they shop.
Sobeys VP marketing Paul Flinton says the grocer has also built a digital content management system that allows it to publish content across all of its digital platforms, be it web, mobile, e-flyer, e-newsletters or digital signage.
"We didn't set out to develop an app, per se," Flinton says. "We wanted to develop an omni-channel approach."
The alignment of its loyalty program to a digital platform brings Sobeys in line with competitors like Loblaws and Longo's. Sobeys previously launched its Moodie Foodie mobile app in June 2012 and Flinton says the new app builds on the idea of "recipe discovery" and adds in structured meal information, as well as deals.
The app is part of the brand's "Better Food For All" repositioning, announced last month, that sees the grocer partnering with celebrity chef Jamie Oliver. In addition to a TV spot featuring the healthy-eating focused chef, Sobeys has partnered with Food Network Canada to promote the new Save with Jamie show on the network.
The campaign to support the app's launch, with media by Jungle Media and PR by High Road Communications, will be driven largely through digital, Flinton says, targeting contextually-relevant sites where people are meal planning, such as FoodNetwork.ca and Allrecipes.com. Mobile media and keyword search will be significant as well, as well as blogger outreach. Further, the company will promote the app through its weekly flyer and at checkout POS.
The app is currently available only on iPhone, with an android version scheduled to launch in the first half of November. For now, it does not include an in-store geo-targeting function, though Flinton says Sobeys will consider it. He notes its stores, in general, are around 40,000 sq. ft., so the desire for that feature may not be that strong.