The Gentlemen's Expo aims to help men "be more interesting"
The trade show and conference already has major sponsors, such as Dove Men+ Care and Canadian Club, and speakers like Chuck Hughes (pictured) to help build up content for guys.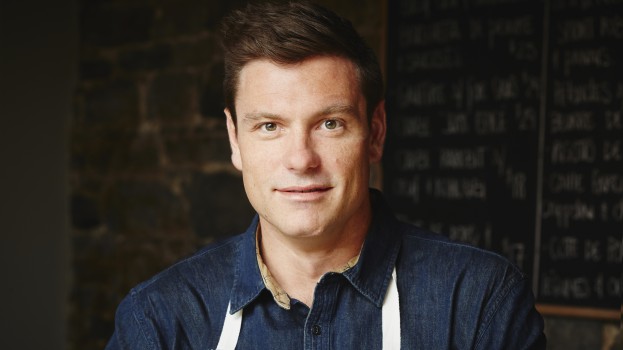 The Gentlemen's Expo is taking its inaugural bow on Nov. 23, aiming to draw a projected crowd of 20,000 to 25,000 guys to Toronto's Metro Convention Centre.
It's already sold 10% of its tickets, and advertising, which includes OOH, TV, radio, print, digital, social and email, hasn't even kicked off yet, says Luca del Rosso, founder of the Gentlemen's Expo (and founder of the Art Of… conference series).
The idea came to del Rosso a few years ago when chatting about a golf expo with his friends. Since he isn't a golfer, he wondered if there was a "weekend out" event specifically geared at guys. Yes, he learned, there was the Man Expo, but that was about it.
"The hairy back contest, girls in bikinis jumping on trampolines, a hot dog eating contest – just didn't appeal to me," he says. Nor did it have a lot of value for his friends. It seemed that expos on the market targeted the frat guy or the sports or car lover, nothing with appeal for the everyday or the suave man.
The Gentlemen's Expo aims to bridge that gap, del Rosso says, connecting consumers and brands through content, providing an opportunity for CPG companies to sample products in a new and experiential way.
For example, instead of staid and true sampling booth, Unilever's Dove Men+ Care line will set up a booth offering event-goers a straight-razor shave from a barber, while Canadian Club is hosting "The Great Whiskey Debate" a discussion on whiskey, bourbon and scotch, leading audience members through the differences and tasting notes of various varieties. The expo's goal, del Rosso says, it to help men "be more interesting."
Understanding that the target demo of 25- to 39-year-old men don't easily fall into categories, there will be 10 pavilions around topics including: Man on the move (cars), tech man, the travelling man, man and his castle (tools), eat drink and be manly, the stylish man (fashion), the working man, the well-kept man (grooming), the sporting man and the cultured man.
The expo is still hunting for sponsors, del Rosso says, particularly partners who are willing to come up with a new type of content offering for attendees, in the cars, tools, work, sports and cultured categories.
Promotion for the event kicks off on Oct. 20 with a social and digital push, followed by a two-week mass media blitz at the beginning of November. OOH will run for the month leading up to the event. Creative, as well as the site's layout, were created by Toronto-based Simplicate, with the media buy handled in-house.