Christie teams cookies with crackers for Christmas
The Mondelez-owned brand is launching its first big in-store holiday cookie push in a decade.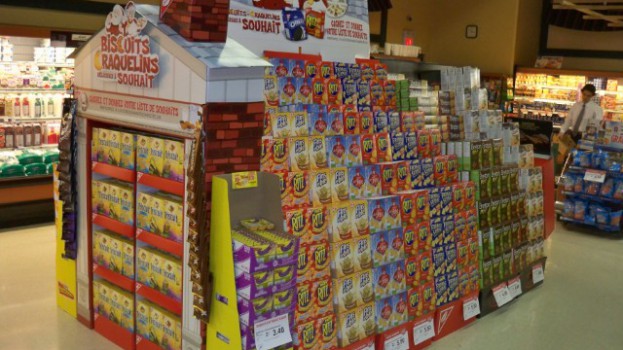 On the eve of Santa's arrival in Australia, children leave mince pies as a token of thanks. On the other side of the world, in Ireland, Guinness beer is a usual suspect. And in North America, the Claus is left to snack on a plate of cookies and milk.
It's a tradition that Mondelēz Canada, with its vast collection of Christie-branded confectionary treats (including Oreo), wants in on. Despite the obvious tie, before its split with Kraft, the brand put little focus on its cookies during the holiday season, primarily focusing on its cracker products in festive recipes for holiday gatherings.
"We haven't, in the past ten years or so, really pushed cookies during this time. But what better company, which owns [a substantial cookie portfolio], to leverage and own the insight that Canadian families are leaving cookies for Santa Claus," says Aditi Burman, senior manager, consumer promotions and scale at Mondelēz
So this year, the company launched an in-store campaign, pairing both types of treats (from Ritz to Chips Ahoy! and Wheat Thins to Peek Freans Lifestyle Selections) in the aisles of participating retailers, such as Metro, Sobeys and Food Basics, using a giant red brick house-styled display. In addition to showcasing cookies (for consumers to leave for Santa) and crackers (to use as appetizers during holiday events, just as Mrs. Claus does), Cadbury brands are also being incorporated into the display with gravity feeders on the sides, containing some of its chocolate and candy products.
The "Cookies & Crackers for the Claus" campaign, created by agency B Street Toronto, is also a play on words, says Burman, because people can go online and create a "wish list" of items they want for Christmas and win one of two $1,000 prizes for themselves as well as for the Children's Wish Foundation. The online contest, which launched on Nov. 1, includes a weekly draw for the prizes and is being promoted on the in-store display. The campaign and contest ends Dec. 31.