Myo moves into the future
The gestural controlled arm band eschews touch for movement control.
In his recent ICA FFWD Ad Week keynote, founding executive editor Kevin Kelly prognosticated that one day keyboards would be obsolete and we would develop a new way of communicating through gesture control.
It's a fair statement to make, considering the gesture-enabled world we're moving towards, where swipes and pinches change tablet displays, and where typing on an iPad can feel cumbersome without some sort of external aid.
Whether or not we'll do away with keyboards all together, however, may be a ways off. Gesture control mechanisms, right now, require a subject to stand in front of a camera, which then translates the movement into an action. For example, to control a video game, you have to physically stand in front of Microsoft's Kinect, meaning most gesture control uses are relegated to confined spaces.
Waterloo-based Thalmic Labs is hoping to break free of the camera lens with its soon-to-hit-the-market Myo, an arm band that turns your movements into actions.
Created by three University of Waterloo graduates, Myo sits on your forearm and can sense movement in two ways. First, it can pick up electromyography, the electrical impulses released from your muscles. Different muscle movements translate into different commands. For example, a wave of the hand might be programmed to turn up the music, while a clenched fist could mean turning off the TV.
It also has a motion sensor to track your hand in space: move to the right and you can pause your video. Shift your arm up and down, and you can speed it up. (Check out the demo below.)
The armband started shipment to developers late last year, says Sameera Banduk, marketing director at Thalmic Labs. It hopes to create a diverse app ecosystem, integrating Myo into existing product and games, in time for consumer launch, which she says they hope to roll out in the next few months.
Right now, one of its focus has been on partnering with gaming and multimedia developers. A promotional demo of the app shows it largely in the hobbyist space, with one consumer controlling Activision's Call of Duty game while another flies a robotic drone.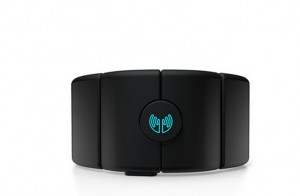 A few agencies in the area are playing with the armband (or in some cases, eagerly waiting to play with the band). Cameron Wykes, chief innovation officer at KBS+, is exploring the device for one client to help differentiate in the wearable technology market, though he couldn't divulge who the client is at this point.

Kevin Sutherland, director of technology at Sid Lee, is eagerly awaiting his pre-ordered developer copy. He says while it may not live up to the hype, he envisions Myo could be used to create highly interactive retail and entertainment experiences. "Who knows, if Amazon get their way and the sky is full of drones, we may very well be using a Myo to collect our mail or perhaps it will replace the steering wheel on our cars," he adds.

Though Banduk remained mum on Myo's distribution strategy (right now, it's only available for $149 through pre-order online), she hinted it's working with some companies for co-packaged distribution, and says it hopes to one day get it into retail.

To date, PR in the tech press has been the brand's largest traffic driver, Banduk says. Marketing activity for Myo will begin closer to launch date she says. And though she, again, didn't divulge details around plans, PR will continue to play a heavy role in promotion.