Trend alert: OOH real-time marketing
Check out these OOH stunts that are perfectly aware of their (sometimes cold) surroundings.
If winter's got you singing the blues and wishing for a warm getaway, maybe you're not in the ad business. Canadian weather, surprisingly, sometimes lends itself nicely to an OOH stunt that's just so smart.
Real-time marketing is still having a hey-day, but the social-media trend does tend to get lost in the clutter (imagine being a brand, trying to compete with Ellen's Oscar selfie?).
So brands are taking their real-time marketing message out of the home, to create a new trend in outdoor space: real-time OOH.
Selson Blue's flaky ad
Working with Lg2 and Touche!, the dandruff shampoo was challenged by a small budget – only a fraction of the main competitor's. So how do you get the most out of an OOH?
To reach a slightly younger demo of people (with the brand's core user being middle-age men) the agency turned to wild-postings to reach people. The idea was simple: a giant head surrounded by snow to imitate dandruff.
But first, they needed weather on their side.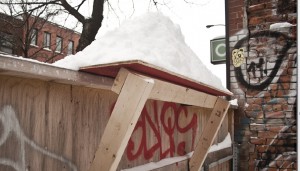 Inspired by the tag "Quand les pellicules vous prennent par surprise," (When flakes take you by surprise), the Montreal-based stunt relied on a snowfall of at least 15 cm to work, with agency folks sitting on the campaign the entire winter, just waiting for that perfect storm, Dave Legendre, account director at Lg2 says.
And on February 14, they fell in love with the weather when the sky dumped the requisite snowfall to make the flaky ad work. Because of the limited budget, the ad was only supported for two weeks, but some of the postings are still up.
Gladstone makes room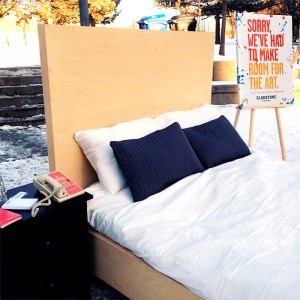 A hotel bed in the middle of a park? It may sound like a dream, except if you're in Toronto during a coldsnap.

Working with Zulu Alpha Kilo, the Toronto hotel cleared out some space for If Walls Could Talk, an art competition it's hosting. A sign next to a comfy (and cozy) looking bed declares "Sorry, we had to make room for art."

Part guerrilla marketing stunt, part art display in its own way, this campaign targeted those with an interest in the arts. The placement at the Trinity Bellwoods Park (Toronto's West Queen West neighbourhood), is rife with the city's hipsters/indie/alt crowds in the brand's 21 to 44 age range.

The stunt was only live yesterday, with setup at dawn and teardown just before the sun sets.

This type of campaign wouldn't have worked so well if it weren't -19 C right now.

In another snow-covered part of the world, Swedish hair brand Apoteket and agency Åkestam Holst decided to really demonstrate hair that moves.

Using electronic billboards in a Sweden's underground, the brand rigged up sound sensors that react to a train pulling in. As the train arrives, the hair is whipped around the model's face… a result anyone with long hair can relate to.

Apparently, German-based DIY store Obi is having a bit of a challenge competing against a glut of other retailers, all competing in a price war to the bottom.

To solve the challenge, it worked with Berlin-based agency Jung von Matt to create some timely and pretty OOH ads. Instead of hocking a product like lumber or paint, they simply did what the brand is known for: DIY renovations. In this case, they renovated the sides of buildings where one might find a billboard. The catch – they only spruced it up to fit an actual billboard (a bit of a shame, because those buildings could have used a bit of TLC).