Hot Wheels launches an interactive exhibit
Housed in Toronto's AGO, the giant racetrack includes a live stream and Twitter-powered switches and lights, and invites kids to build their own epic structures.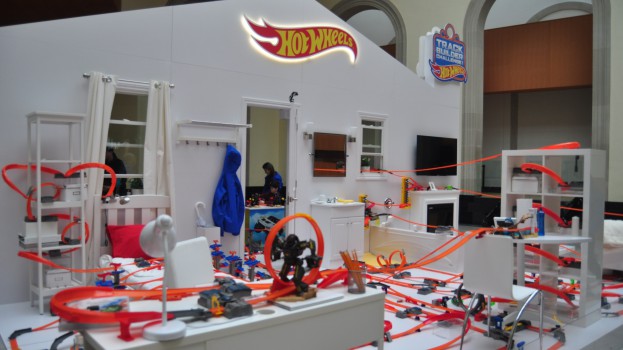 Hot Wheels kicked off its Track Build Challenge (which invites boys to build custom racetracks for a chance to win a branded party) with a giant pseudo-art installation at Toronto's Art Gallery of Ontario (AGO).

Structured inside a set that resembles a house, the track was custom built with more than 1,000 pieces. It will live throughout March Break (having gone live on the 8th and torn down on the 16th), and invites kids and parents to play. Cameras stream the track online live, and people across the country can help control the switches and lights with a Twitter-powered program (however, it's not through Twitter that people can control the track, but rather on the site).

The entire project was inspired by a new product line of connectors (which allow kids to add bends and such into their tracks), says Danielle Minard, senior manager, consumer engagement at TrojanOne, the creative shop behind the execution.

Also spurred on by the growing maker movement, the brand wanted to inspire boys between three and eight years of age to build their own unique tracks. Kids can upload images of their creations to Hotwheels.ca, where they're also encouraged to browse the work by others.

"There's this customized approach, and it'll never look the same," Minard says.

Though the brand's sweet spot is three- to six-year-olds, the new building focus of the brand is starting to attract older children, as well as adults, she says, with many parents at the stunt getting down and joining in on the action.

She says they plan to take this execution on the road, though they haven't nailed down to which venues yet. The brand is typically very active at outdoor events, however, because this is an indoor execution, they have to try to find appropriate partners.

The travelling house will also be supported by a TV spot on YTV and Teletoon, with creative being finalized right now from Corus and Carat. It is set to go live the week of March 24, Minard says.