Boston Pizza's big 5-0
Look back at the casual dining brand's history as it celebrates its anniversary.
It might be hard to rewind to a time when a restaurant's seminal marketing strategy comprised placing flyers in car windshields – a vision perhaps even harder to fathom given that nearly 50 years later, this same brand received more than 230,000 impressions the first day after launching a campaign around a T-shirt.
Such was the case though for Jim Treliving, owner and chairman, Boston Pizza, who opened his first Boston Pizza restaurant in 1968 in Penticton, B.C., and recalls being told they were littering because people tossed their flyers on the ground.
Despite the distance the brand has come, now spanning the country with 355 restaurants and system-wide gross sales last year of about $975 million, the brand hasn't abandoned its small town roots. In fact, after 50 years, Boston Pizza, built its story around a position that recognizes its duality as a large national brand and one that is also local.
"Our ability to present a big brand and a big food and entertainment-based concept in a small community, while having those local connections, is core to our proposition," says Steve Silverstone, EVP marketing, Boston Pizza.
Its survival amongst its competition (it has a market share of 3.7% in the full-service category), is in large part due to tapping humour and building a quirky personality with celeb endorsements and unique product offerings.
Now with a marketing department of about 30, the brand has certainly come a long way since its birth as Boston Pizza and Spaghetti House.
Western beginnings: 1964-1986
The brand's roots can be traced back to Edmonton, where Greek immigrant Gus Agioritis opened the first restaurant in 1964 after trying pizza in Boston.
Theories about how he selected the name for the restaurant exist, says Silverstone, but it's safe to suggest it was because Agioritis had an affinity for the American city.
That year, gross sales totalled $500,000, but it would not take long to grow, as Agioritis was focused on franchising.
Treliving recalls dining at the Edmonton restaurant before opening his own franchise in 1968, which he thinks had cost about $23,000 to launch. As the business grew, the franchise distributed flyers and took out newspaper ads, before moving to radio with an Italian-themed jingle.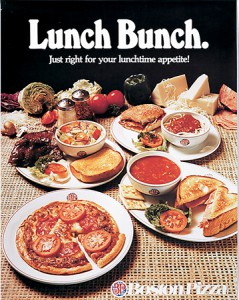 "We were a bunch of guys that didn't know a whole lot about advertising at that point," Treliving recalls.
By 1970, Boston Pizza would have 17 locations across western Canada. Treliving and George Melville, Boston Pizza's other owner and chairman, became partners in 1973, before purchasing the company in 1983. At the time, this entailed a chain of 44 restaurants. Gross sales reached $30.8 million the following year.
After fulfilling the initial vision to become a full franchise company, Treliving says the brand's next big push was Expo 86. The Vancouver event provided a platform for Boston Pizza to debut itself to the world market.
Towards the end of Expo 86, people would line up every day to try Boston Pizza's offering, ultimately helping to propel the brand forward with its franchising and expansion into markets beyond the West.
Eyes to the East and beyond: Mid-1990s to 2000s
With two locations already in Ontario, Boston Pizza began a more substantial expansion into Eastern Canada in the late '90s, which brought a focus on national advertising. The time difference between the brand's Vancouver headquarters was problematic, so in 1997, a regional office was opened in Mississauga, which would also serve the push into Atlantic Canada.
Growth around specialty TV programming in the '90s and early millennium proved to be advantageous for the brand, explains Silverstone.
"By achieving some size and scale on networks like TSN and Sportsnet, we were able to achieve that bigness that wasn't normally available. So based on our size in Western Canada, we were able to penetrate the East with national advertising on those channels."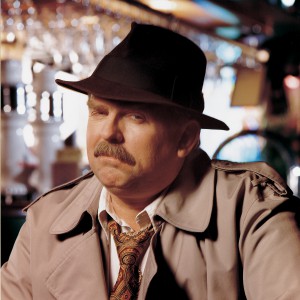 Boston Pizza's partnership with John Ratzenberger from the Boston-based TV show Cheers served as a significant jumping off point for more national advertising and regular TV work for the brand. TV and radio spots, which ran in the mid 1990s, featured Ratzenberger speaking to the tune of the song "More Than a Feeling" by the band Boston. Vancouver-based agency Lanyon Phillips worked on creative and media for the campaign.
"That would've been our first big ad campaign that we really would've introduced the brand around the two [restaurant and sports bar] concepts under one roof," says Joanne Forrester, VP marketing, Boston Pizza.
Another major TV personality to partner with Boston Pizza was Howie Mandel, with whom the brand launched its tagline at the time, "You're among friends." The Mandel campaigns, with creative and media by Lanyon Phillips and TBWA, aired on TV and radio from 1996 to 2000/2001.
"He was a likeable, fun, unpretentious character – well known from some of his work around Bobby's World with kids and families," says Forrester.
It was the brand's work with Mandel that really helped to create awareness, says Silverstone. With both the Mandel and Ratzenberger campaigns, the goal was to leverage their celebrity status, but also to equate the spokesmen's qualities of familiarity and accessibility with the comfort of the brand.
Part of the marketing strategy during the Ontario expansion entailed complementing the national program with regional or community relations initiatives such as local sports sponsorships.
"Media buys through speciality networks and conventional networks certainly give you that national scale, but the brand really does have a localized feel to it and you really feel that when you walk into the restaurant just from the decor," says Forrester.
The brand continued to extend its reach in North America, and opened an American head office in Dallas, Texas in 2000 to support U.S. expansion with its Boston's The Gourmet Pizza restaurants. The company opened its first location in Mexico in 2002 and continued its push in Canada by diving into the Quebec market, where a regional office was opened in 2004. In 2008, gross sales surpassed $830 million.
Digital became a key part of the brand's strategy a year or two later, beginning with SEO and Facebook activity, before moving into other social networks such as Instagram and Twitter. The brand's marketing department has hired about three new people and re-assigned a staff member to take on digital and social media in the past three years.
A new creative agency and a new (temporary) name: 2010 to 2011
In more recent years, many of Boston Pizza's notable campaigns have revolved around new menu items, including campaigns from Taxi to help position the brand as a place for chicken wings. When Taxi first came aboard in 2010, the agency conducted a category review and found a lot of the work to be fairly similar.
"That first order [of business] was to try and find something that was distinctive for them," says Darren Clarke, executive CD, Taxi. "So we actually positioned them more of a place for dads – 'dads and dudes' we call it – which was kind of different for the category because a lot of the competitors were talking to women, mothers and families. We decided to go against the grain on that and talk to dad when he's with his family and when he's in his dude mindset, which is where the sports bar would come in."
To promote its take-out and delivery offering, the brand launched the concept of "finger cooking," where all dad needed was his finger and a computer. With creative by Taxi and media by PHD, the push started with "Finger Cooking with Bill" in 2010 through TV, digital, OOH, direct mail and POS. This was followed by a cookbook in 2012. Two million copies of "The Joy of Finger Cooking" were sent through direct mail, along with TV, POS, PR and digital elements. Online takeout and delivery sales increased 21% after the first year and 19% in year two.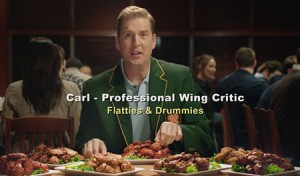 In April 2011, Taxi developed the "Flatties and Drummies" campaign around the brand's new-and-improved wings, with media by PHD.
"We noticed within the category everyone kind of pats themselves on the back and boasts about their offering," says Edith Rosa, group account director, Taxi. "So we found a different way to go about that by having somebody else critique and talk about how great the wings were at Boston Pizza."
The Flatties and Drummies Professional Wing Critics Association was created and fictional wing critic Carl Carlson was born. The campaign included online elements, downloadable wing skins, a Facebook contest, a microsite that served as the association's website, Xbox media, in-store POS, a personalized wings menu and TV spots, along with the revelation through online and in store that Boston Pizza had won the (also fictitious) 2011 Crystal Wingy Award for the Best New Wing.
But some people thought the award was real, Rosa says.
"When Boston Pizza was 'awarded' a Crystal Wingy, we heard through the grapevine that competitors were outraged as to why they weren't considered for this award, which didn't really exist."
Sales growth significantly surpassed the goal of a 50% increase at 160%, while wings became the fastest-selling menu item ever. Additionally, the brand garnered 14,600 new Facebook fans on its national page and after three weeks, the TV campaign saw a 66% breakthrough rate.
Around the same time, the brand undertook a unique execution that saw restaurants in two Canadian cities undergo a temporary name change during the 2011 Stanley Cup playoffs. When the Montreal Canadiens faced the Boston Bruins, followed by the matchup with the Vancouver Canucks in the finals, the brand hung banners with the Boston portion of the restaurant's title crossed out and replaced with the home city, along with changed rink boards in Vancouver. OOH was also purchased to support the effort.
It was a risky move, admits Silverstone, but the demonstration of hometown spirit paid off as it gained traction with media and guests responded positively.
Bringing in more "experts": 2012 to 2013
The fun with fictitious characters continued into another campaign for wings in 2012. When Boston Pizza was ready to launch its boneless wings, the product was already offered at other establishments. So the solution was to reinvent it into "All Meat Wings," which Niall Kelly, CD, Taxi, says made the offering more appealing to the brand's dads-and-dudes target.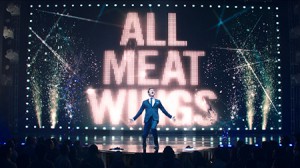 The campaign's first phase used social to introduce fictitious food innovator Terry Peters, who was credited with inventing more than 400 foods, including seedless watermelon and piggies in a blanket, while newsletter subscribers and wing bloggers were contacted pre-launch, and a countdown clock was featured on Facebook. When it came time for the big announcement, Peters unveiled the wings in a TV spot to an excited crowd, and a radio spot entitled "Epic Announcement" also ran. As part of the digital media plan, which featured banners and pre-roll, Peters' food innovation gallery was available on Xbox and an avatar was created for him.

The brand aimed to carry the momentum forward from the prior year's wing campaign and keep its sports bar top of mind as a wing destination throughout the NHL playoffs. It exceeded its goal to increase wing sales by 5%, as sales increased by 43.3% versus year ago in the campaign's first week, and as much as 54.7% by its end.

In April 2013, Boston Pizza launched a campaign for another new product, the Pizzaburger, a burger wrapped in pizza dough. Kelly recalls sampling it and knew it was a must-try. But he wanted to develop a more insightful way to convey that not everyone would be able to try it.

What emerged was a look back through history to characters such the caveman, the Viking and the cowboy, who would not have had the chance to sink their teeth into the concoction. With media by PHD, the campaign featured 60-, 30- and 15-second spots, along with digital, social and print. It garnered 15 million impressions nationally, while burger sales increased 250%.

The creative was also unique to the category, avoiding typical scenes featuring two male friends, Kelly adds.
Later that year in June, Boston Pizza once again tapped quirky, fictitious characters with a rural southern family to weigh in on the brand's ribs for its "Ribnecks" campaign.

But not everyone loved the Ribnecks, as Rosa recalls it being a polarizing campaign. Some found the southern stereotypes to be offensive.

Forrester thinks perhaps some of the dissent stemmed from the characters' articulation, which was based off a trend in pop culture with TV shows like Duck Dynasty.

"Certainly the intent was never to offend," she says.

Boston Pizza never considered pulling it, but didn't hide behind the negative comments on Facebook either, she says. The larger focus, Forrester explains, was on the Rib Stain Camo, a T-shirt with mock rib stains.

Developing a product rib lovers would want but didn't even realize they needed was a way to convey to them the brand knew how to do ribs, explains Kelly, adding the shirts still appear online and he recently found one on eBay for three times the original price.

Boston Pizza sold out of its 3,000 Rib Stain Camos, although Forrester notes it was a short-lived initiative and if pursued, the brand likely could have sold more. Meanwhile, rib sales increased by 56%.

The golden year: 2014

Today, the brand's marketing department has about 30 people, up from around 20 a decade ago, and about half of Boston Pizza restaurants have a community relations coordinator to implement local marketing programs. This initiative coupled with the proximity of regional offices to the franchises across the country helps to address the challenge of maintaining a local connection amidst the growth of the restaurant industry, Silverstone explains.
The brand also recently launched its Future Prospects program, in which it will work with organizations such as Big Brothers Big Sisters and Kids Help Phone on mentoring youth. Meanwhile, its BP Foundation has raised over $18.1 million for charities.

Now with its big 5-0 around the corner, the brand has kicked off some of its celebrations with an anniversary logo and the inclusion of its history in the menu.

With events largely focused in the summer, the company plans to bring back some classic recipes, such as its Popeye Pizza, plus introduce new food-based innovations. However, Silverstone says some big food-related news will be revealed in April, hinting that pizza will once again be innovated in a way the brand believes to be a first. A large integrated campaign is slated in April around the food innovation, while another campaign will focus on the anniversary. Both will include TV, digital and a bit of regional radio, along with a significant PR push.

As for Treliving, he says his nearly 50 years with Boston Pizza have gone by quickly.

"I wish I could get another 50 in this thing."