Slyce turns everyone into walking flyers
The Toronto-based app lets you to snap a picture of someone else's clothes to buy items on the spot.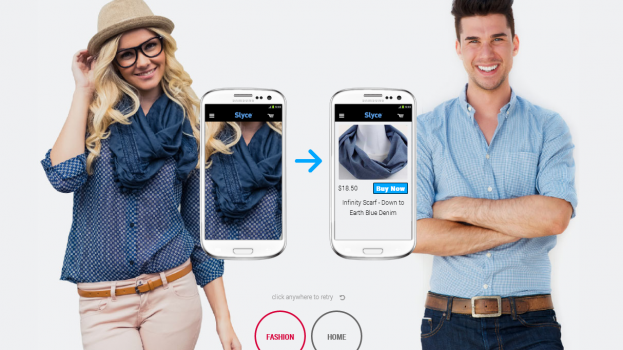 Just when retailers were beginning to accept and combat showrooming, the phenomenon gets a plot twist. Think of the world as one massive showroom, where people can photograph any item that strikes their fancy (a handbag on a stranger's arm, a baby stroller in the mall or perhaps patio furniture in a friend's backyard) and then find a near-exact matching product to purchase on the spot.

It's not a forward-looking prediction; the technology already exists and it's called Slyce.

Slyce is billed as the Shazam of things. The Toronto-based startup recently partnered with six retailers in the U.S. and has begun ingesting information about the retailers' SKUs while embedding its software into the brand's consumer-facing apps.

So when a new product is developed, the company will create an "attribution model" which will categorize it by colour, material, size, texture, or even by where the buttons or seams sit. The product's information and image will be registered in the software and when a consumer is using, for example, the Bay's app, they can take a photograph of a Coach bag and have it find the closest comparable match from items in the retailer's database using the attributes brown and leather, for instance.

"Brands want to be able to transact with customers wherever they are, it doesn't necessarily have to happen in their stores or on their website. [It] turns the whole world into a showroom…and [so] it's a way for brands to compete against Amazon," explains Mark Elfenbein, chief digital officer at Slyce. "And customers like it because it's instant gratification – they're inspired by something and they can purchase it at that very minute."

Elfenbein wouldn't disclose the names of the six retailers the company is currently working with, but alludes to the majority of them being in the fashion and department store category. He says the retailers will be able to promote the new service through their marketing promotions and inform current app users of the new offering when they perform a software update of the app.

Explaining how other brands could use the technology, Elfenbein gave an example of a toy company being able to create a mobile baby shower registry, where a person can take a picture of a high chair, for instance, and immediately add that item from the retailer to the gift registry.

Another concept Slyce is working on is the ability to categorize any item in the real world for a mobile couponing app and have it find coupons and deals for people based on a picture they took of a pair of jeans.