Ciroc blends in the tiki trend
The Diageo-owned luxury vodka brand cracks some coconuts for an experiential push in Toronto and Vancouver.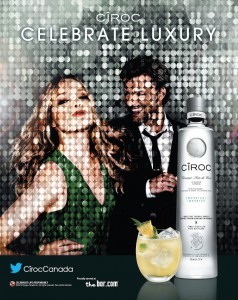 Diageo-owned Ciroc vodka, launched in Canada just one year ago, is introducing a new coconut flavour in the country and it's celebrating with a party, of course.
For the "ultra-premium" vodka brand, perhaps best known for its association with hip hop mogul Sean "Diddy" Combs and billed as a luxury alcohol, no ordinary event will do.
It has partnered with London, U.K. nightclub and celebrity hotspot, Mahiki, known for its Tiki-themed decor and fresh fruit cocktails, to bring the back-on-trend tiki party to Toronto and Vancouver.
The first pop-up party for the "Ciroc Le Beat Tropique" campaign is May 28 at EFS Nightclub in Toronto, a VIP event to draw in celebrities and influencers that will be followed by a one-night event open to the public featuring a new range of tiki-style, Ciroc-based cocktails"
events featuring a new range of tiki-style, Ciroc-based cocktails. The France-based company's master distiller, Jean Sebastian Robiquet, will meet with media, industry players and trade associations prior to the Toronto launch event, helping to enforce the brand's points of difference, says Geoff Kosar, brand director of Ciroc Canada. For instance, Ciroc is made from grapes in France, where traditionally vodka has been sourced from grains or potatoes, and it is distilled five times.
Kosar says the tiki theme fit well with the launch of the new coconut flavour, and the brand is hoping to leverage the tiki drinks' association with the luxury of the French Polynesian islands. The exclusivity and limited-time nature of the parties should appeal to the brand's target audience of 25 to 34 year olds, who aspire to a luxury lifestyle, while building significant buzz through the VIP event, helping to grow its presence and drive purchase intent.
"This is all about influencers and amplification," Kosar says. "The people who will be at these events are the key influencers in Toronto and Vancouver."
The brand launched in the U.S. in 2003 and got a big push when it entered into a strategic partnership in 2007 with Combs, whose company Combs Enterprises leads brand management activities. In Canada, Ciroc, which also comes in red berry, Amaretto and peach flavours, has 1.1% value of the total vodka market and Kosar says there are aggressive growth plans for the country. Similar events are planned for later this year in Brazil and Europe, Kosar says.
A new 30-second spot, "Taste the Truth," produced by New York agency Blue Flame, recently started airing on TV and as pre-roll in Canada, along with targeted print and online ads in publications such as Notable.ca, Sharp Magazine and Air Canada's in-flight magazine, EnRoute. Kosar says the campaign is also being amped up through the brand's social media channels. MediaCom is handling the media buy, Arts & Communications (A&C) is doing PR and social media, and Vibrant Ideation and Marketing is behind the experiential.
The new coconut flavour should be available across Canada in the coming weeks, Kosar says.
Correction: A previous version of this story said the experiential was taking place in Toronto and Montreal. The events are in fact planned for Toronto and Vancouver.