Paper dolls for the digital age: Metropolis' Mobile Stylist
The B.C. mall's online tool inspires shoppers to curate their looks by mixing and matching items from multiple retailers before they make a trip to its stores.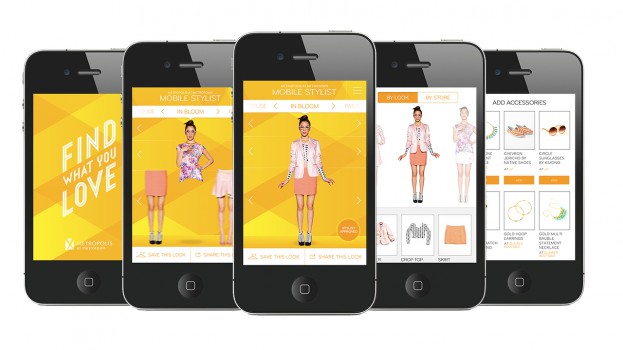 Navigating a busy mall with countless stores to find items that speak to a person's particular style can be a time-consuming task, but it's also one that Metropolis at Metrotown in British Columbia is set on eliminating with a new digital tool.

The second-largest mall in Canada has just launched a mobile site that invites users to create outfits by mixing and matching 188 different apparel and fashion accessories from 35 of the mall's retailers, and placing whatever suits their fancy on a virtual model.

Using Mobile Stylist, anyone can curate looks (chosen from items picked by fashion stylist Luisa Rino for the site) and then have the site organize them by retailer so when the user decides to make the trip to the mall, the items are categorized and easy to find, with directions to each store. The retailers aren't charged a fee to be featured on the site, with the mall approaching each individually to be a part of seasonal looks.

Also playing on a recent trend in fashion apps, with the introduction of such tools as WiShi (an app where users help style each other by uploading clothing from their closets), the Mobile Stylist allows users to share their looks with friends via email, Facebook, Twitter and Pinterest to get their opinions.

Because people use their mobile phones or tablets to access the site, the swipe technology of those devices made sense for the "paper doll" concept, which requires a user to swipe to change items on the virtual model, says Marty Yaskowich, managing director at Tribal Worldwide Vancouver, the agency responsible for developing the mobile site.

For the past three years, working with Karacters Design Group, the mall has sourced items from its retailers to develop large-scale seasonal creative advertisements in Vancouver's SkyTrain, using the tagline, "Find what you love," to support the brand's diverse product offering from more than 400 stores.

"Fashion advertising tends to be a little limited, there are only so many pieces you can display. So we really wanted to have a way to expand and showcase the breadth of offerings that the mall has," notes Yaskowich.

So this year, while the advertising will continue to showcase nine seasonal ensembles, as it has in the past, it will also include a URL  for viewers to take a closer look at each outfit on the Mobile Stylist site. The outdoor ads are set to appear in June, with the mobile site having launched earlier this month.

"With something like this, we can show more categories, more themes, and then provide the utility around where they can find the items," he adds.

As more people research online these days, but with many still wanting to physically try on clothing, it makes sense for retailers to create tools that help move them along the path-to-purchase by configuring outfits online that then save them time in stores.

"This isn't just about inspiring people to come shop in the mall, it's about inspiring people to buy specific items at locations in the mall, and showing the path, right down to the user stepping into a store to purchase products featured on the site," he adds.